Former Days of our Lives villain Justin Melvey (ex- Colin Murphy) will join the cast of General Hospital this month in the newly created role of Andrew. In a somewhat ironic twist, the actor shares a lot in common with some of his soon-to-be castmates.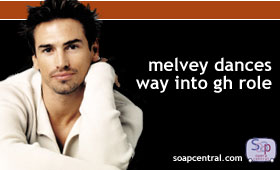 The Australian-born Melvey is previously known to daytime fans for his role as Colin on NBC's Days of our Lives from 2001 to 2003. The character was believed to have met an untimely demise in 2003 when, after blackmailing nearly everyone in Salem, he was murdered. However, the character was found to be very much alive in 2004 when the show "resurrected" a plethora of supposedly deceased characters.

It's unclear if Melvey's character on General Hospital will be quite as despicable, but, like his DAYS alter ego, the new character will be linked to a blackmail plot. "Andrew" is described as a wealthy young corporate type of guy who is roped into a blackmail scheme by another new GH face, Allegra Montenegro.

Melvey will be featured prominently opposite Kelly Monaco (Sam McCall). In a spooky coincident, both Melvey and Monaco were winners on celebrity dance contests. Monaco recently won "Dancing With the Stars" and Melvey took home top honors in an Australian version of the show in 2004. The writing staff is said to have cleverly concocted a scenario that would allow the two stars to "cut a rug" on the show. In another twist, Melvey previously auditioned for the role of Jax, currently played by Ingo Rademacher.

Melvey makes his debut on General Hospital on August 11th.