According to various reports, General Hospital is actively courting two-time Daytime Emmy winner, Tom Pelphrey (Jonathan Randall, Guiding Light). The former Guiding Light star could potentially play a key character on the ABC soap.
Former Loving/The City star Lisa LoCicero (ex-Jocelyn Roberts) joins the cast of General Hospital this week as Olivia, Kate's cousin. It is rumored that Olivia shares a past with Sonny Corinthos -- a past that may include a child. This is where Pelphrey gets tied into the story.
According to a report in Soap Opera Weekly, General Hospital is hoping to land Pelphrey for the role of Sonny and Olivia's son. As GH viewers are aware, adding the twentysomething offspring of the show's leading male character could potentially electrify the show.
The story becomes slightly more convoluted as it combines with the possible exit of another key GH star, Steve Burton (Jason Morgan). Burton, an Emmy winner himself, will reportedly exit the show when his contract expires this fall. TVGuide reports that General Hospital has no interest in Pelphrey, and that the network has started floating the rumor to scare Burton into re-signing with the show.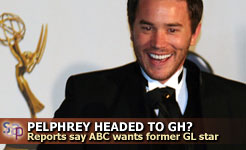 Pelphrey joined the cast of Guiding Light, television's longest-running scripted television program, in September 2004. He remained with the CBS soap for three years before opting to move on to other projects. The actor has returned to Guiding Light on several occasions to help tie together loose ends of his character's storyline.
Pelphrey has won two Daytime Emmys in the Outstanding Younger Actor category. His first win came in 2006 and he picked up his second trophy earlier this year. In an oddly timed release, a paperback version of Jonathan's Story, a companion book to Guiding Light, will be released at the end of the month.
If ABC is indeed trying to lure Pelphrey to General Hospital, it would certainly up the competitive poaching between the two networks. ABC has had several high profile CBS soap actors join its lineup in recent months. Insiders say the tension between ABC and CBS started earlier this year when the ABC soaps were virtually shut out of the Daytime Emmy nominations.
LoCicero first airs on September 19th. The role is recurring.
As for the Pelphrey chatter, ABC notes that it does not comment on rumors.
Photo: Dan J Kroll/Soap Central
---

RELATED STORY
Guiding Light to release paperback version of Jonathan's Story. [Sep 13, 2008]
---