Maximus "Magnus" Giambetti, Sr.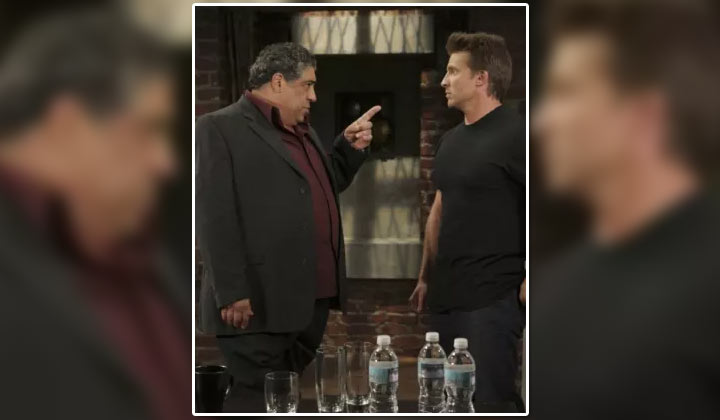 Vincent Pastore
No information available
Magnus (Milo's name for his father)
Retired mob boss
Palermo, Italy
Single/Divorced
Married six times, but the names of his wives are unknown
None known
Max Giambetti (son)
Milo Giambetti (son)
Diane Miller (flirtation)
Mobster
Deported to Palermo, Italy in 1988 [revealed Oct 8, 2008]
Killed his mob "computer genius" [revealed Oct 10, 2008]
None known
Maximus "Magnus" Giambetti was a notorious mobster from the east coast who had been arrested then deported to Palermo, Italy in 1988. He was married six times, with his final marriage ending in late 2008. He also fathered two sons, Max and Milo Giambetti, but the brothers had different mothers.
Over the years, Max and Milo dutifully made the pilgrimage to see their larger-than-life father in Palermo, Italy, but in October 2008, Maximus arrived in Port Charles for a surprise visit. It quickly became clear to everyone close to Max and Milo that their father had been under the mistaken impression that Max was a powerful mob boss. Max's girlfriend, Diane Miller, was not happy when Max introduced her to his father as his attorney.
Max and Milo were loyal bodyguards for the real mob boss Sonny Corinthos, and they answered directly to his enforcer, Jason Morgan. However, when Maximus showed up, Max and Milo implored everyone to humor their father for the duration of Maximus' short trip. Jason agreed, but he reminded Max and Milo that trouble was brewing with the Russian mob because Sonny believed that Andre Karpov had been responsible for Sonny's fiancée's shooting on their wedding day. Kate Howard had survived, but Sonny was out for revenge.
Maximus was not impressed with Max's "bodyguard" Jason because his t-shirt and jeans were too casual. Jason grudgingly changed into a suit because he knew how important Maximus was to his sons. However, Jason laid down a few ground rules for Max, including that he had only three days to play mob boss. The ruse worked -- or so the brothers believed. Just before heading back home, Maximus stopped by Sonny's to offer him some advice about how to deal with Karpov then admitted that he knew that his eldest son worked for Sonny. He asked Sonny to keep his boys safe, and not to let them know that he'd been aware of their deception. Sonny agreed.

Post a Comment

Share on Facebook

Tweet this

Submit Feedback