ABC has released a casting call for the role of Sam McCall. News of the casting call was first reported by Soap Opera Digest and has since been confirmed by Soap Central. Despite what would appear to be an indicator that actress Kelly Monaco (Sam McCall) might be leaving the show, at least two of her co-stars are assuring fans that Monaco isn't going anywhere.
In the casting call, Sam is described as "early 30s, female, Caucasian, brunette, sexy, dynamic and fiery." More telling, however, are the details that do not describe the physical characteristics of the character. The role is that of a "series regular." The casting notice also notes, "This is a character who has been established on the show."
Despite the casting call, several of Monaco's co-stars have come forward to say that the actress is not going anywhere.
"Kelly Monaco is not leaving," Steve Burton (Jason Morgan) wrote on his personal Twitter page. Burton recently renewed his contract with General Hospital.
"[For] the love of God, she is not going anywhere," Nancy Lee Grahn (Alexis Davis) added. "Don't believe everything [you] read."
There are now whispers of two possible scenarios for the casting call. The first hints that Monaco may require some time off from the show in the near future and the show is starting its search for a temporary replacement now. The second option states that the casting call might actually be for another role (possibly Claudia Zacchara), though it is unclear why the show would use an existing character's name for a casting call.
Kelly Monaco originated the role of Samantha McCall in October 2003. It wasn't the actress' first role as Port Charles resident -- or even her second. Back in July 2000, Monaco made her daytime debut as Olivia "Livvie" Locke on GH's spinoff, Port Charles. She remained with the show through its conclusion in October 2003. For several months, Monaco also played "Tess," Livvie's pseudo-sister.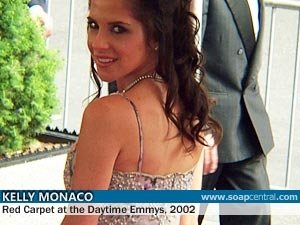 There have been rumors for at least a year that Monaco has wanted to leave General Hospital to focus on other projects. The actress recently appeared in the Las Vegas show, Peep Show. There has also been talk that some ABC execs have been looking for a primetime vehicle for Monaco. In 2007, Monaco was cast in a pilot for the primetime drama, Football Wives. ABC passed on picking up the series for its fall lineup and Monaco subsequently signed a new contract with General Hospital.
Monaco has twice been nominated for a Daytime Emmy. In 2003, Monaco was nominated for Outstanding Supporting Actress for her work on Port Charles. Three years later, she received a nod in the Outstanding Lead Actress field for her General Hospital work.
Outside of daytime, Monaco may be best known for her work as a Playboy model or her first-place finish on ABC's Dancing With the Stars. The actress recently traveled to Africa as part of a humanitarian mission being dubbed "Daytime Gives Back."
Recasting Sam would undoubtedly stun fans of the actress. It is unclear at this time if Monaco has expressed her desire to leave the ABC soap, if the network has decided not to renew her contract, or if the release of the casting call is being used as a bargaining chip.
An ABC spokesperson had no comment on the casting call. A rep for Monaco was unavailable for comment.
Photo Credit: Dan J Kroll/Soap Central
---
---