After nearly seven years with General Hospital, Greg Vaughan (Lucky Spencer) has confirmed that he's been let go by the ABC soap. His departure comes as the show prepares to bring Jonathan Jackson back to the role he created in October 1993.
For Vaughan's fans, the news comes as bit of déjà vu. In July, Vaughan took to his Twitter page to downplay rumors that he'd been taken off contract. The actor's denial came amid published reports that he'd been fired from General Hospital. Now, less than three months later, the actor has had to backtrack and inform fans that his time in Port Charles has come to an end.
"As of today, with sad regrets, I will no longer be a part of what has been a big part of me and my family's life," Vaughan posted on his Twitter page. "GH and [The Powers That Be] have chosen to take [Lucky in] a new direction. I THANK ALL of YOU, for the many memories we've shared and new ones to come!"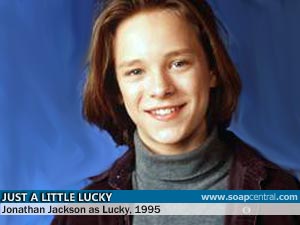 Vaughan's remarks, however, seems to conflict with an official statement released by ABC.
"Greg Vaughan has decided to vacate the role to explore new opportunities," the network said in its statement. "We thank him for his years engaging our audience and dedication to the show and network. The cast and crew wish him well in all his future endeavors."


Vaughan's castmates are also offering their thoughts on the actor's dismissal from the show.
"I'm deeply saddened by this news," Brandon Barash (Johnny Zacchara) replied to Vaughan's news. "Not gonna be the same without you next door. Your star will shine wherever it lands."
"Everyone give [Greg] your blessings please," Tyler Christopher (Nikolas Cassadine) remarked. "He gave Lucky justice while he was there."
"I'm so sad & sorry to hear this," Sarah Brown (Claudia Zacchara) stated. "I know you're going to do great wherever you go. My love to you and your family always."
"Heartbroken about Greg. However, this is a guy who worked constantly before GH & will continue to do the same after GH," added Nancy Lee Grahn (Alexis Davis) "He is an amazing gentleman, a dedicated father, a committed and talented actor who is loved and adored by his cast. He will be fine!"
Vaughan assumed the role of Lucky Spencer in 2003 from Jacob Young, who now appears as All My Children's JR Chandler, in February 2003. Prior to settling in Port Charles, Vaughan appeared for a year on The Young and the Restless as Diego Guittierez.
Meanwhile, the three-time Emmy-winning Jackson will return to the show this week, reprising the role he originated 16 years ago. Jackson appeared as Lucky for six years before leaving daytime to focus on other projects. Since leaving GH, Jackson has appeared in nearly a dozen feature films. His latest, a thriller named Kalamity, is slated to open next year. On the small screen, Jackson has made guest appearances in primetime, including a spot on FOX's Terminator: The Sarah Connor Chronicles earlier this year.
Vaughan last airs on October 20. Jackson, meanwhile, reports to work on October 1 and will first air October 27.