General Hospital's longest-running contract player, Leslie Charleson (Monica Quartermaine) has been taken off contract. The actress will, however, remain with the ABC soap on a recurring basis.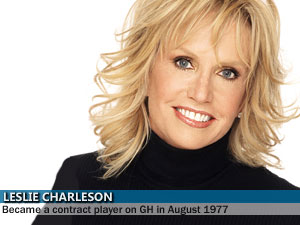 Though the change of status probably won't surprise many viewers -- the actress' storyline has been virtually nonexistent for some time -- it still stings. The demotion means fans will see even less of the storied Quartermaine family on their screens. Charleson had been on-contract with General Hospital since August 1977.
Rumors have circled Charleson's status with the show for some time. In 2004, it was rumored that Charleson and her then-contracted co-stars, Stuart Damon (Alan Quartermaine) and Jackie Zeman (Bobbie Spencer), were going to be let go. At that time, the three stars combined for a cumulative tenure of more than 81 years.
Damon would eventually be let go. In December 2006, General Hospital announced that the actor was let go, though he was brought back for a short-term recurring appearance several weeks later. A year later, in December 2007, Zeman learned that she, too, would be taken off contract.
ABC does not comment on contracts.