After 30 years with General Hospital, Stuart Damon (Alan Quartermaine) will be exiting the show in early 2007. With the stunning news that the actor is out comes the prerequisite gossip and off-the-wall tales of how and why the actor was let go. Yes, the award-winning actor was fired.
Damon, who joined General Hospital in February 1977, will exit the show in February 2007 when his character is killed off. Some speculation by creative online fans conjured up a major storyline twist revealing that Alan had actually murdered Rick Webber -- and that during his arrest Alan would suffer a massive heart attack and die. The murder charges are still very much up in the air, but as the story is currently penned, Alan will indeed suffer a fatal heart attack.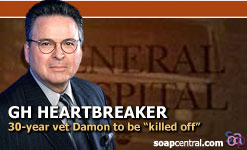 Officially, ABC is offering no comment. It would appear that the news of Damon's impending exit leaked before the network was ready to address the topic.
While some are quick to label Damon's ouster as no surprise due to the actor's recent reduction to background fixture, the loss of the long-time GH cast member will no doubt strike a chord with many General Hospital fans. Despite his backburner status, Damon remained popular with fans and drew critical acclaim throughout his tenure with General Hospital. Damon earned a Daytime Emmy for Outstanding Supporting Actor in 1999. He garnered additional nominations in the same category in 1982, 1983, 1984, 1991, 1996 and 1999.
As you might expect, online petitions have sprouted up left and right with the hopes of getting ABC to reconsider its decision to fire Damon.
Several online sites have indicated that Damon wanted out of his GH contract, but show sources assert that that was simply not the case. The sources tell Soap Central that the news of his firing hit Damon extremely hard.
With ABC offering no comment, a final airdate for Damon is not yet available. His exit is, however, expected during the first week of February Sweeps.
---

RELATED STORY
AMC's Julia Barr gets no farewell episode after 30-year run.