Darby Collette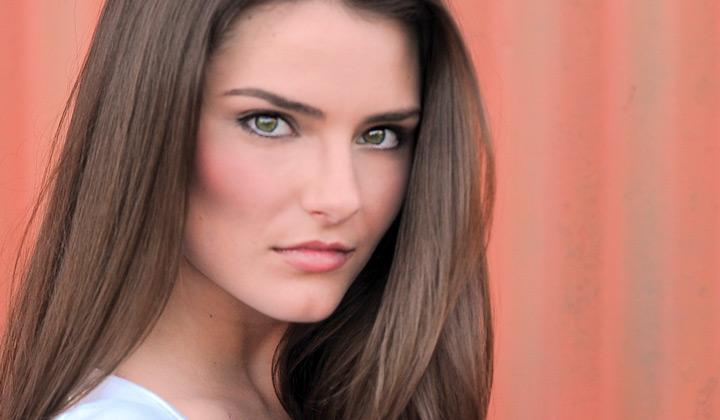 Jesica Ahlberg
Student at Port Charles University
Unknown
Formerly apartment #608 at an undisclosed address in Port Charles, NY
Single/Never been married
None
Unknown
None known
Morgan Corinthos [Oct 30, 2015, and Feb 17, 2016]
Dillon Quartermaine [Jul 15, 2016]
Suggested that Morgan commit plagiarism by buying a copy of a school paper online [Sep 13, 2016]
Contracted the STI "MG," mycoplasma genitalium [Aug 4, 2016]
Darby flirted with Morgan on the Haunted Star after she'd seen him get shot down by Kiki. Darby invited Morgan to a party at Port Charles University when Molly and T.J. arrived to pick her up. Darby discovered that Molly and Morgan were cousins and later asked Molly to tell her all about Morgan.
Later that month, Darby and Morgan attended a Halloween party on the Haunted Star, where they found an empty room and had sex. After making disparaging remarks to Darby, Kiki advised Darby to not let Morgan near her mother. Darby kissed Morgan passionately, but Morgan pulled away and said it wasn't a good idea. Darby was disappointed but said he knew where to find her if he changed his mind, and she left.
A few months later, Darby went to see Morgan at the Corinthos Coffee warehouse and dragged him to a private corner, where she kissed him passionately. Morgan pulled away and said it wasn't a good idea. Darby was disappointed but said he knew where to find her if he changed his mind.
Darby received several text messages from Morgan, asking to see her. She met Morgan at the warehouse, where they found a dark corner and tore off each other's clothes. Kiki arrived and was stunned when she saw Darby and Morgan half-dressed and kissing. Darby was shocked when Morgan told Kiki he'd tried to sleep with Darby for Kiki's sake. Darby told Morgan she didn't want to be involved with someone who didn't want her, and she marched out.
Darby ran into Morgan and Kiki at Perks Coffee. Morgan advised Darby that he and Kiki were back together. Darby told him she was meeting her date. When Dillon arrived, Darby hugged him and asked if Dillon knew Kiki. She told him that she and Morgan had hung out. Darby thought that Morgan was a total head case and Kiki was a drama queen.
Darby and Dillon went to Darby's apartment and ended up in bed. Darby told Dillon she was happy she'd invited him in. After the lovemaking, Dillon left for work.
When Darby asked Dillon to meet her at Perks Coffee, Dillon replied that he was not willing to explore a relationship. Darby informed him that she hadn't invited him to talk about their relationship but to advise him that he'd have to get tested for an "STI." Darby revealed that she'd tested positive for mycoplasma genitalium, commonly referred to as "M.G." Darby explained that it was a relatively new sexually transmitted illness and often didn't have symptoms. Darby warned him that it could lead to cancer if untreated with antibiotics. Darby told Dillon she hadn't been with Morgan for months but had tried to warn him. Morgan had ignored her texts.
Later, Darby met Morgan, Kiki, and Dillon at the hospital and told Kiki about the STI. Kiki was furious, but Darby resented being treated as if it was her fault. She had acted responsibly by getting tested and contacting everyone.
After Darby's relationship with Dillon fell apart, Darby ran into Morgan at Perks and congratulated him when he mentioned that he'd enrolled at Port Charles University. However, Morgan grumbled that he had a paper due and hadn't had a chance to read the book. Darby encouraged him to buy a paper online and added that a lot of her friends did it.
On October 5, 2016, Darby decided to leave Port Charles.

Post a Comment

Share on Facebook

Tweet this

Submit Feedback