GL brings in newcomer to play A.C. Mallet
Guiding Light has again tapped into its lengthy history to bring back a character from the show's past. This time around, though, the character will not be played by the actor that made the character famous. Newcomer Robert Bogue will join the cast next month in the contract role of A.C. Mallet, a character last seen back in 1993.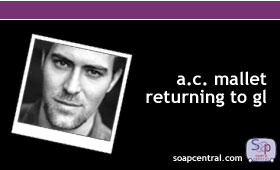 While Bogue has never appeared previously on daytime television, he has a pretty extensive acting portfolio. Bogue has made guest appearances on the primetime series Whoopi, The Education of Max Bickford and The Sopranos. The actor has also graced the silver screen, with roles in the films In the Weeds, Rattler, Bobbing for Apples and the upcoming 5up 2down.

Mark Derwin previously appeared as A.C. Mallet during the character's July 1990 to September 1993 run in Springfield. More recently, Derwin held the role of Ben Davidson on ABC's One Life to Live. Derwin also appeared in the primetime series, Life with Bonnie. A rep for Derwin declined to comment when asked if Derwin had been approached by Guiding

The return of A.C. Mallet is just the latest is a string of returns by established characters. Last year, Gina Tognoni was brought about as Dinah Marler. Earlier this year, Kurt McKinney reprised his role as Matt Reardon

Bogue makes his Guiding Light debut on April 15th.