It was to much fanfare that Joan Collins (Alexandra Collins) joined the cast of Guiding Light earlier this year. Now, after only a few months, comes word that the actress is leaving the show.

Interim Guiding Light Executive Producer and Executive In Charge of Production for Procter & Gamble Productions Mary Alice Dwyer-Dobbin announced last week that Collins had asked to be let out of her contract.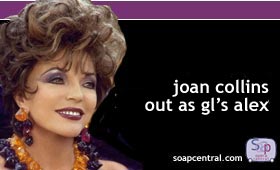 "Joan Collins has asked to be released from her Guiding Light contract," Dwyer-Dobbin said in a statement. "It was a difficult decision for us to make because she has been such a wonderful Alexandra Spaulding. However, we completely understand that she has other obligations and we support her decision to focus on her other projects at this time. I'd like to thank Joan for the work she's done on the show and we wish her the best of luck."

Guiding Light announced that it had landed Collins for the role of Alexandra this past July. Many decried the announcement as a stunt, saying that Guiding Light hoped to capitalize on Collin's fame. Collins, of course, became a household name due to her work as Alexis on Dynasty. Collins' addition to the GL cast failed to make a blip on the ratings chart; Guiding Light remains in eighth place.

According to Collins, "It was a fascinating challenge to work on Guiding Light with some truly wonderful actors and a great team. It is regretful that we weren't able to fit in my obligations stemming from the success of my two new books Star Quality and Joan's Way (in the UK) and my future projects."

Upon announcing that Collins would be exiting the show, Guiding Light confirmed that the role would be recast. There was immediate speculation that Marj Dusay (ex-Vanessa Bennett, All My Children) would reprise the role she had played off-and-on from 1993 to 1999. On Monday, November 25th, a Guiding Light spokesperson confirmed that Dusay would return to a role for which she received a 1995 Daytime Emmy nomination.

Collins' final airdate will be December 23rd.