In an open letter addressed to his fans, Ricky Paull Goldin (Gus Aituro) has announced that he will be exiting Guiding Light when his contract expires. The letter, which was emailed to members of his fan club, says that the exit will come "in a couple of weeks."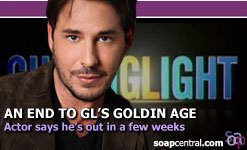 "I want you to be one of the first to know that I'm planning on leaving Guiding Light when my contract expires in a couple of weeks," Goldin wrote. "Gus has been a huge part of my life and I will really miss portraying him and bringing this character to life for you."


Goldin joined Guiding Light in April 2001. During his seven years with the CBS soap, Goldin earned two Outstanding Lead Actor nods at the Daytime Emmys. The actor has again been pre-nominated in the category by his castmates, the fourth time he has received the honor.


"My seven years on Guiding Light have been a wonderful experience. Now it's time for a new adventure, a new chapter in my life," Goldin reflected. "I will especially miss working with Beth Ehlers, since it doesn't get any better than Gus and Harley."


Goldin anticipates that his exit might upset his fans and suggests that fans contact "the powers that be" at the show to express their feelings.



What is your reaction to Ricky Paull Goldin's exit from Guiding Light?

I'm crushed. Goldin is one of the reasons I watch GL. I may stop watching.
52%
I'm upset that he's leaving, but I respect his desire to find a new project
33%
I really don't care for Gus, so I won't be upset if the role is scrapped.
12%
I think the time is right to recast Gus and give a new spin to the role.
2%
I have no opinion about Goldin's exit at this time.
1%
Other
1%
I don't truly believe that Goldin is leaving Guiding Light.
0%
Poll Posted: February 27, 2008
"It means so much to me that you have shown your continued love and support for me and the character of Gus," Goldin noted. "I am sure that the powers-that-be at Guiding Light would love to hear from you as well. It is always good to let them know how you feel. That, of course, is your right."
In a letter to her fans,
Beth Ehlers
(
Harley Cooper
) responded to losing her friend and co-worker by echoing Goldin's request to think good thoughts.
"For me the idea of Harley without Gus is unimaginable! 2008 was supposed to be the year of their reconciliation," Ehlers wrote. "Please send good wishes [Ricky's] way. And maybe in the future... [Harley and Gus] will get together again. I can only hope."
Goldin's exit has the potential to put a damper on the excitement being generated over the debut of a new production model for Guiding Light. The changes,
which debuted February 29th
, use new filming techniques and on-location shoots as part of an innovative cost-saving approach to filming the show.
Ironically, it is those changes that may have prompted Goldin's exit. In addition to rumored frustration with the direction of his character, Goldin is also said to have worried that the show's budget cuts would have further negative impact his storyline.
"We had really hoped that Ricky would stay on as a member of the cast of Guiding Light," executive producer Ellen Wheeler said in a statement. "Unfortunately, we were not able to come to terms on his contract. We are sad to see him go and wish him the best."
In his personal life, Goldin recently suffered the loss of his father. Behavioral psychologist and hypnotist Paul Goldin died in Ireland in early February at the age of 79.
Before joining Guiding Light, Goldin appeared on two other daytime drama series: The Young and the Restless, where he played Gary Dawson in 1999, and an off-and-on run as Dean Frame on Another World.
Goldin's final airdate has not been determined, but the actor will not be unemployed for long. Goldin will begin a new role on All My Children in April. [
Click here
for more on Goldin's AMC move]