ABC executives have managed to snag soon-to-be-former Guiding Light star Ricky Paull Goldin for a very familiar All My Children role. Goldin's addition to the cast had been the subject of whispers for about a week, but a network spokesperson has now confirmed that the actor will join AMC later this year in the role of Jake Martin.




Ricky Paull Goldin
Goldin
announced last week
that, after seven years, he had decided to leave Guiding Light. On the record, Goldin expressed a desire to find new career challenges. However, Guiding Light insiders tell Soap Central that Goldin was unhappy with his character's waning storyline and equally displeased with the 71-year-old soap's
new production model
.
"My seven years on Guiding Light have been a wonderful experience. Now it's time for a new adventure, a new chapter in my life," Goldin reflected on his personal web site. "I will especially miss working with Beth Ehlers [Harley Cooper], since it doesn't get any better than Gus and Harley."
Goldin will become the fifth actor to tackle the role of Joseph Martin, Jr. The previous four actors all met with varying degrees of success as the show's writers tried to carve out a niche for the character in the show's storylines.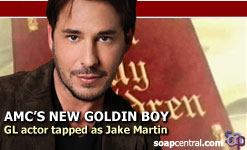 Appearing on AMC from 1983 to 1988, Michael Scaleri was the first -- and to date the longest-running -- actor to portray the role. After Scaleri, another Michael -- Michael Brainard -- took over the role. Brainard appeared as "Joey" from 1988 to 1991. The actor then made guest appearances in 1994 and 1995.
Michael Lowry
assumed the role in 1996 as the character was aged slightly and given the new nickname "Jake." Lowry remained with the show for four years. The most recent actor to step into Jake's shoes was
J. Eddie Peck
. Peck lasted three years with the show, but his stay was marred by fan criticism stating that he was "too old" for the role.
In accepting the role on All My Children, Goldin hinted that the ABC soap was ready to "make some history" with the character of Jake. The comment has many fans wondering what the show has planned for Jake this time around -- but Goldin is sworn to secrecy.
"All I can tell you is that I think it is a really good re-introduction to Pine Valley for this character," Goldin teases. "I'll give you a clue, it took me 20 minutes in the shower to wash all the blood off after I was done shooting. And that's all I can say.
In addition to his Emmy-nominated work on Guiding Light, Goldin also appeared on Another World.
Goldin reported to work at All My Children on April 9th. He will first air on May 2nd.