Antonio Sabato, Jr. returns to Port Charles
Antonio Sabato, Jr. will return to Port Charles this month. His return brings to an end Jagger Cates's 13-year absence from the fictional New York town. Since last spotted by GH fans, Sabato has gone on to star on the primetime soap, Melrose Place. He also appeared briefly on CBS's The Bold and the Beautiful. When Jagger returns, he won't be coming alone.
Veteran actor and long-time heartthrob
Antonio Sabato, Jr.
(
Jagger Cates
) is headed back to Port Charles. However, fans waiting anxious to see Sabato return to daytime will not be seeing him on ABC's General Hospital. Sabato will be seen exclusively on GH's primetime spinoff, Night Shift, which kicks off its second season later this month.
"It is very exciting to kick off the second season with" Sabato, said Brian Frons, president, Daytime, Disney ABC Television Group.
Jagger Cates returns to Port Charles ends a 13 years break since his last appearance. Jagger will not, however, be returning alone: he'll have his five-year-old son, Stone, with him. Once back in town, Jagger will reconnect with Robin Scorpio, the woman who fell in love with his late brother and son's namesake, Stone Cates. Along the way and, most importantly, Jagger will face a difficult internal struggle as he grows emotionally as a man and a father.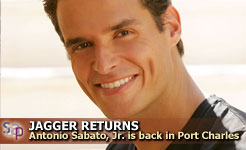 "I couldn't be happier to have Antonio Sabato, Jr. join us this season, as he will bring so much to this season because of Jagger's complex character and for the obvious natural charm he brings to the screen," notes Night Shift's executive producer, Lisa De Cazotte.
Adds Head writer Sri Rao, "Antonio is a true star. We are proud that he can trace his roots to GH and see it as befitting for him to return to Port Charles in the legendary role that helped propel his career."
Since leaving General Hospital, Sabato has kept himself busy with numerous primetime appearances and even a handful of feature films. He may be best known to primetime soap fans as Jack Parezi on the series
Melrose Place
.
In 2005
, Sabato returned to his daytime roots and appeared as hunky artist
Dante Damiano
on CBS's The Bold and the Beautiful. Dante never seemed to find his place on the show's canvas and was written out
about a year later
.
Night Shift's second season begins July 22nd at 11:00pm.
Script error: local_323050.xml does not exist. Please create a blank file named local_323050.xml.