ABC continues its parade of fan favorite stars from yesteryear. Though unconfirmed by the network, Soap Central has learned that Susan Haskell (Marty Saybrooke) will be returning to the show later this year. Haskell has since confirmed her return with an announcement on her official web site.
This is not the first time that Haskell was scheduled for a Llanview homecoming. In 2006, Haskell and the show reached an agreement that would have had the actress return to One Life to Live for a limited-run engagement, but there was an unforeseen wrinkle that prevented the actress from reprising her Emmy-winning role: she was pregnant. With a storyline already developed for Haskell's alter-ego, the show had no other choice but to seek out a replacement.
After a lengthy casting process, former Sunset Beach star Christina Chambers was cast as Marty. The actress had the unenviable task of making the role of Marty her own and, at the same time, trying to win over fans who were disappointed that the show opted to recast the role.
Chambers' Marty was last seen on December 4th when a van she was traveling in exploded. In true soap fashion, a body was never found but Marty was presumed dead.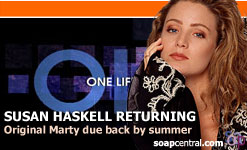 Haskell appeared on One Life to Live from 1992 to 1997, but made additional appearances in February 2004 and February 2005. In 1994, Haskell was awarded a Daytime Emmy in the Outstanding Supporting Actress category.
Haskell first airs on June 11th.