One Life to Live's executive producer, Gary Tomlin, has revealed that the role of Al Holden has been recast.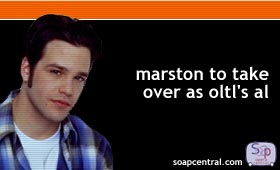 Newcomer Michael Tipps, who joined the show in May, has been let go. In his place, Al will be played by former As The World Turns star Nathaniel Marston. Marston, now the fifth actor to play the part of Al, has already begun taping scenes for OLTL.
According to a show source, the character will be "taken in a new direction." The explanation is commonplace in the world of soaps. Traditionally when a character's demeanor will be altered radically by storyline, the role is recast. It is believed that Al will now be a bit edgier.
Marston played the role of Eddie Silva on ATWT from 1998 to 2000. In January of 2000, Marston was ordered to pay a $750 fine to Chase Manhattan Bank for abusing an ATM machine.
Marston's first tape date was October 22nd. His first on-screen appearance should come in late November.