Relative newcomer David Tom (Paul Cramer) will be exiting One Life to Live within the next few weeks. His exit is expected to spark more crossovers between One Life to Live and All My Children and, ultimately, bring about a resolution to the shows' baby-swapping storyline.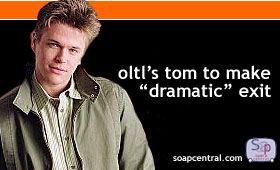 Tom assumed the role of Paul from Brock Cuchna in February as part of a build up to the baby-swapping storyline with All My Children. In developing the storyline, ABC execs reportedly wanted a bigger name performer to play Paul, a role that had previously been a relatively minor role.
In joining One Life to Live, Tom was reunited with his real-life sister, Heather Tom (Kelly Cramer). The Toms' characters were also written as siblings. The two had previously worked together on the top-rated soap The Young and the Restless. Ironically, though, the two never shared a scene together on the CBS soap. Both David and Heather Tom won Daytime Emmys for their work on The Young and the Restless.
Tom had to relocate to New York for his One Life to Live role. The Young and the Restless is filmed in California. Prior to his joining One Life to Live, rumors began circulating that The Young and the Restless was considering possibly bringing Tom's former character of Billy Abbott back to the show.
Tom took a temporary leave from One Life to Live in July for what was called "personal reasons." The news of his impending exit has started a firestorm of chatter on some Internet sites. Some sites have speculated that Tom's abrupt exit - which, reportedly, network execs didn't know about until he missed showing up for work - may have brought about the decision to axe his character. Others, however, question whether or not Tom's exit might have been brought about by hard feelings upon learning that his stint with the show would be coming to an end.
A final airdate for Tom has not been announced. A show spokesperson declined to comment on Tom's status with the show. SoapCentral.com, however, has learned that the role will not be recast.
--->
---
.
--->
---