As hinted early this summer, when ABC execs made the decision to recast the role of One Life to Live's Clint Buchanan, the network was determined to land a "big name" star for the role. Well it looks like the network accomplished that goal and scored a major casting coup all at the same time.

Multiple Emmy winner Jerry ver Dorn (Ross Marler, Guiding Light) will join the cast next month in the role of Clint. Veteran daytime star Clint Ritchie is best known as OLTL's Clint, having been seen in the role from 1979 to December 1998.

"We are very excited to have an actor of Jerry's caliber join the OLTL ensemble," executive producer Frank Valentini said in a statement. "He is a well respected actor, and we look forward to having Clint Buchanan back in Llanview full time."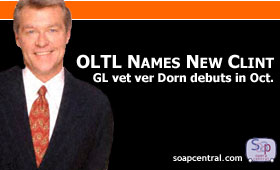 In snagging the role of One Life to Live's Clint, ver Dorn is said to have beat out a handful of other talent. Among the actors said to have been in contention for the role were Randolph Mantooth and ex-Dallas star Patrick Duffy.

Many fans voiced their displeasure when it was learned that Ritchie would not be returning to the show. Rumors on the 'net circulated that ABC told Ritchie that his services were not needed. However, Ritchie quickly issued a statement that he had not been asked by ABC to return to One Life to Live, but dodged questions about whether he would have returned had he been asked. In a poll conducted by Soap Central, 62% of respondents indicated that they felt Ritchie was the only actor suited for the role of Clint.

Ver Dorn, meanwhile, is also a veteran of daytime television. Like Ritchie, he has called a single soap home for over two decades. In 1979, ver Dorn joined the cast of the CBS soap Guiding Light. He remained there as a contract player for 26 years until earlier this year when he was bumped to recurring status. Like many other veteran performers of the struggled soap, ver Dorn was cut from the cast in order to help keep the show's budget in the black.

The news of ver Dorn's addition to the cast should come as a big relief to One Life to Live head writer Dena Higley and the rest of her writing staff. The show had been writing Clint into the show's storylines even though the casting department had yet to cast the role. While the search drew longer and longer, Higley remained adamant that Clint would be seen on-screen before the end of the year. It is unclear if the show had to shuffle any of its storylines in order to accommodate the extended search for the new Clint.

Jerry ver Dorn will make his One Life to Live debut on October 22nd. It is unclear how Guiding Light will address ver Dorn or his character's exit from the show.