As widely speculated, Clint Buchanan will make his return to the One Life to Live canvas later this year as a love interest Victoria Davidson (played by Emmy winner Erika Slezak). Long-time fans may, however, be disappointed that when Clint returns to the show he will not be played by a well-liked performer.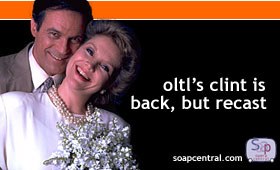 One Life to Live head writer Dena Higley has confirmed that the show is moving forward with its plans to give Slezak's Viki a leading man. Higley has expressed a desire to give Viki a love story since taking over as head writer back in October 2004. The actress has been without a love interest for several years. In an ironic twist her new love interest is actually a two-time former husband.
The role of Clint Buchanan was originally portrayed by actor Clint Ritchie. Ritchie originated the role in 1979 and remained with the show for 19 years before his exit in December 1998. Since that time he has returned on an occasional basis as storyline warranted. The actor went into retirement recently, and, according to the actor, he was never approached by ABC about returning to the show.
There are no confirmed candidates for the recast role, but rumors are circulating. Names making the rounds as possible new Clints include Randolph Mantooth and ex-Dallas star Patrick Duffy.
--->
---

RELATED STORY
Learn more about Clint and Viki's past.
---