Viki, Pre-Clint

Having been forced by her father to end her relationship with fellow-reporter Joe Riley, Victoria Lord's first alter emerged early in the series and we were introduced to "Niki Smith." Niki was somewhat of a brazen hussy and was in hot pursuit of Joe's best friend, Vince Wolek. Viki began psychotherapy to rid herself of the troublesome Niki but had little success. During Viki and Joe's wedding ceremony, Niki came to the surface and ran out with Vince, but Viki soon returned to Llanview and married Joe.
When Joe was involved in a car accident in California, and presumed dead, Viki became involved with Steve Burke, Executive Editor of the Banner, at the promoting of her father. Viki and Steve were eventually married.
Viki was shocked to learn that Joe was alive and had returned to Llanview, but chose to remain faithful to Steve. Her true feelings for Joe prevailed in the coming months and she and Joe gave in to their passion for each other when they made love in a hotel during a snowstorm. As fate would have it, it was Viki's turn to be involved in a car accident and after a long coma, regained consciousness but had no memory of Joe's return. Joe turned to another fellow writer, Cathy Craig who became pregnant with his child. When Viki's memory returned, she discovered that Joe and Cathy were lovers. She tried to stay out of the picture, but once again their love for each other prevailed and they were married. Cathy and Joe's daughter, Megan, suffered from a congenital heart defect and had an attack while in Viki's care. She died in a car accident while Viki was trying to get her to the hospital. In 1976, Kevin Lord Riley was born to Joe and Viki, but was abducted by Cathy Craig, who was crazed by the loss of her daughter.
Viki and Joe eventually separated because of Joe's drinking but were brought back together at Kevin's return.
Joe Riley was diagnosed with an inoperable brain tumor and concerned for the welfare of his family and the Banner, he invited an old friend to come to town and fill his shoes. Enter Clint Buchanan.
Clint and Viki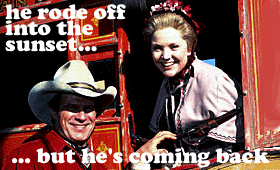 The first time Clint met Viki it was fireworks. He returned a drunken Joe to his home. Viki was worried and angry and there was hell to pay. Just the same, Clint settled into his role of Editor at the Banner and began to make a life for himself in Llanview. He had a brief relationship with Pat Ashley and a mild flirtation with Dorian Lord, but as he and Viki got to know each other, he fell in love with her. Also during this time, Viki gave birth to her and Joe's second son, Joey.
Viki, mourning Joe and having been through the wringer with Ted Clayton and her half-sister, Tina, wasn't ready for a serious relationship and Clint left the Banner for The Chronicle when working with Viki became too unbearable. It was then that he started a relationship with Edwina Lewis, a reporter for both papers. Viki went to jail for refusing to reveal her source in the baby switching case involving Jenny Vernon and Katrina Karr. Clint and Viki's love for each other finally won out and they became engaged - with Viki still behind bars!
Troubles still plagued Clint and old memories of a past affair with Echo DiSavoy surfaced. He had a one-night stand with her and when she was later murdered, Clint was accused of her murder. Viki stood by him throughout and he was eventually exonerated. Their happiness was still in jeopardy, however, when Niki re-emerged and a terrible strain was placed on their marriage.
Clint was pleasantly surprised on the day of their second wedding when Viki told him she was expecting their first child. Several months later, Jessica was born.
A man named Mitch Lawrence came to town and using Viki's alter, Niki, planned to steal the Lord fortune. He failed, and was eventually murdered, but not before he programmed one of his followers, Allison Perkins, to kidnap Jessica. Even though he was dead, the kidnapping went off a planned and yet another strain was placed on the Viki and Clint's often-fragile relationship.
It was at this time that Clint learned he had a grown son, Cord Roberts. His mother, Maria Roberts had reappeared and jealous of Viki tried to kill her by placing deadly poison on a pair of earrings that Tina bought Viki for her birthday. It was Maria herself that got the lethal dose when she entered into and lost a struggle with Tina.
Clint was shot while rescuing Viki and Tina who were taken hostage by Jamie Sanders. He lost his sight when some bullet fragments were lodged in his brain. Viki and Clint decided to move to the ranch in Arizona where he could recover and adjust to his blindness.
Time Travel - 1888

While recovering in Arizona, Clint hopped onto his horse and went for a ride in the desert. Clint's horse was somehow spooked and threw him. He hit his head, and awoke with his eyesight miraculously restored! But!!! Where was he???? It looked like the movie set for a scene in the Old West! He turns, and lo and behold, he sees Asa and Cord riding into town. During this strange episode of time travel, Clint met more of his ancestors and some of Viki's too. When he found that all was not well in Buchanan City, he realized that he would have to stay and bring some peace to its inhabitants if his own line was to survive in the future. Later, when he is about to marry Viki's great grandmother, Viki rushes in to the rescue and whisks him back to their own time. Did it happen? Or was it just a wild dream brought on by a severe concussion? We may never know!
To Viki's astonishment, she discovered that she had given birth to a baby girl 25 years earlier, a hypnotist had erased her memory.
A man called Michael Grande's trapped several people, including Viki in the secret underground city of Eterna. It is here that Viki learns that she and Roger Gordon had made love years earlier and she had his daughter, Megan. She also learned that she had once been married to him. When she later returns to Llanview, Clint angry and jealous of Viki's renewed relationship with Roger, moves back to his ranch in Arizona.
Clint and Viki's marriage finally ended a few years later when Dorian, always on the lookout for a way to get revenge on Viki, showed Clint incriminating photos that made it look like Viki was having an affair with retired Army General, Sloan Carpenter. Clint moved out of Llanfair and Viki and Sloan's love grew. When Clint found Viki and Sloan in bed at the ski lodge, he filed for divorce Later, when Viki and Sloan got engaged, Clint refused to sign the divorce papers.
After finally getting a divorce from Clint, Viki married Sloan Carpenter but lost him soon afterwards when he died of Hodgkin's Disease.
There was a short relationship between Clint and Carlotta Vega, but probably due to a lack of chemistry than any other reason, they went their separate ways. Clint was angry with Viki and the way she has treated him and Viki began to feel some remorse. There was an attempt to rekindle their relationship, but Viki's past issues of sexual abuse and her recovery from DID stood in the way for Viki who wasn't ready to for another intimate relationship.
Finally having had enough pain banging his head against the wall over Viki, Clint quickly moved on to Lindsay Rappaport, but this was a relationship doomed from the start. After a quickie wedding ceremony in Las Vegas, Clint realized Lindsay wanted his money and a way to get back at her ex-husband, Sam Rappaport, and he had to acknowledge his own motivation to forget about Viki. A divorce soon followed and we last saw Clint leave the Banner and Llanview to join Cord in London.
When Mel Hayes was killed in a plane crash which we now know was caused by Hugo Munro, Viki found herself lead by him through her dreams, to visit a bar on the outskirts of Llanview called The Crossroads. There she met Ben Davidson. In the last few months, we have seen Viki and Ben grow close while on the run from the mob. There is a lot of mixed reaction both in Llanview and among OLTL's viewer's to this new arrival - and his involvement in the life of the grand dame of the Banner. Does it really make sense for a woman of Viki's status to walk into a bar and come out with the bartender? Sounds more like Niki than Viki. On the other hand, Viki did say she needed a change. Whether or not this newfound love can survive remains to be seen.
With Clint Ritchie's return to OLTL for Asa and Renee's wedding, we will also see how Clint reacts to this new man in Viki's life. No doubt, he won't be too thrilled to see Viki happy and in love with anyone other than himself. And what of Viki's reaction to seeing him again? Will she realize that she still loves him? Or will she draw even closer to Ben? Whatever the outcome of this reunion, the days that lie ahead will surely entertain us.

RELATED STORYLearn more about the many marriages of Asa Buchanan.

---