Two One Life to Live stars are in different phases of contract talks with the network. According to show sources, Trevor St. John (Todd Manning) reached a deal with the show and then changed his mind - but his sometimes on-screen love interest, Renée Elise Goldsberry (Evangeline Williamson) has yet to reach a deal.
How would a Goldsberry exit impact One Life to Live?

Losing Goldsberry would be a huge blow to OLTL. They need to re-sign her.
61%
I am not a big Evangeline fan and wouldn't mind seeing the role scrapped.
33%
If Goldsberry wants out, I think OLTL should recast Evangeline.
3%
I like Goldsberry, but I think Evangeline has worn out her usefulness.
2%
I'm a fan of the actress, but I think she should pursue other projects.
0%
I have no opinion about Goldsberry's tenuous status with OLTL.
0%
Other
0%
Poll Posted: April 9, 2007
A two-time Emmy nominee, Goldsberry and ABC have been unable to come to terms on a new contract. It is unclear what was the sticking point. An article in the
New York Daily News
claims that Goldsberry "asked for the moon," but ABC execs turned her down flat -- without so much as a counteroffer. That has led to speculation that the actress wanted more "outs" in her contracts. Outs allow a performer time off from the show to pursue outside projects, such as film roles.
It doesn't look good for Evangeline, as the show is currently planning to write the character off the show. Sources say that Evangeline will fall into a coma and remain that way until there is a resolution between the two sides.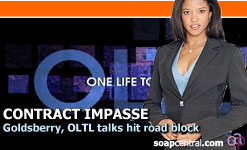 If the coma storyline sounds familiar, it should; last year the show scripted a coma storyline when contract talks with Hillary B. Smith (Nora Hanen) broke down. Fans were outraged and flooded the show with email, letters and phone calls. Late last year, Smith was stunned when the network approached her with the offer of a new, long-term contract.
Goldsberry joined the cast of One Life to Live in February 2003, in what was to have been a short-term, recurring role. By April, the show offered the actress a contract. Prior to joining the show, Goldsberry appeared on Broadway in The Lion King. She has also originted the role of Nettie in the Broadway version of The Color Purple.
Trevor St. John, OLTL reach agreement on new contract, but...