Hold on to your hats, One Life to Live fans -- there is a stunning development in the contract status of one of the shows most-loved actress. Emmy-winning actress Hillary B. Smith (Nora Hanen) and show executives have come to terms on new contract that will keep the actress and her alter ego in Llanview for the foreseeable future.
Last year at this time, One Life to Live fans were mourning the apparent exit Smith and the death of on-screen heroine Nora Hanen. But fans received a surprise Christmas present with news that Smith and show executives had reached a deal on a new-one year contract.
But the celebration was short-lived.
In January, Smith issued a statement on her official web site hinting that the contract extension was merely a way to do right by her character and give Nora a proper send off. For fans, that conjured up images of a Terri Schiavo-like storyline in which a comatose Nora was taken off life support.
"This 'one year' [contract extension] was my idea," Smith clarified. "ABC did not short-change me. Brian [Frons, ABC Daytime President] and I are both pleased with this extension."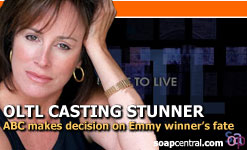 As the months drew on, Nora remained in a coma and fans wondered if a purported "major storyline" by head writer Dena Higley was merely a ruse to keep them tuned into the show. Eventually, however, Nora did regain consciousness, but fans' hopes of a major storyline were dashed when Smith was seldom seen on-screen afterwards.
Now, at the end of 2006, there is yet another holiday miracle for Smith's fans. Smith has signed a new four-year contract with One Life to Live. The contract apparently came out of nowhere -- and even stunned Smith.
"When I got the call from ABC I sputtered and spewed and said, 'Are you out of your minds? This doesn't make sense!' But I'm very excited," Smith told TV Guide.
What is your reaction to Hillary B. Smith's new OLTL contract?

I am beyond ecstatic. This may be the best news I've heard in ages.
61%
It's good, but I am not thrilled with the impending Nora-Lindsay catfights.
18%
I'm reluctantly happy. I will believe it when I see Smith back on-screen!
13%
I can't say I'm overjoyed. I really don't consider myself a Nora fan.
4%
I have no opinion on Smith's new contract at this time.
2%
I'm disappointed. I was actually hoping Smith would move to a new soap role
1%
Other
0%
Poll Posted: December 13, 2006
Indeed, after allowing Smith's on-screen persona to languish for over a year, it would appear to be a stunning change of direction for the show to offer the actress a new long-term deal. While there are several possible reasons for the network's sudden (re)interest in the award-winning actress, a great deal of credit has to be given to Smith's fans. For much of the past year, fans have waged a "Save Nora" campaign -- that would, at least on the surface -- appear to have gotten the network's attention.
What's more, is that fans will not just be given the false hope that Smith will see some on-screen time sometime during the next four years. ABC apparently already has in place a storyline that will catapult Smith and Nora back to the foreground of One Life to Live action -- and it involves one of Nora's old nemeses.
In addition to Smith's new contract, Soap Central has learned that Catherine Hickland (Lindsay Rappaport) will also be back on One Life to Live. In May 2005, Soap Central first reported that long-time OLTL vet Hickland's contract with the show would not be renewed. Since that time, Hickland has appeared in a recurring role on the soap.
When the New Year rolls around, ABC promises that Nora and Lindsay's feud will be renewed -- and stuck in the middle of this feud will be Bo Buchanan. The show also promises a more screen time for Phil Carey (Asa Buchanan) as well.