Which Passions recast do you think is most important for the show?

Both Miguel and Fox. Both characters have strong ties to Harmony.
36%
Miguel. He's been off the canvas too long.
30%
Fox. He is too vital to disappear, so a recast was needed.
23%
Neither. I could honestly do without seeing either character in Harmony.
8%
I'm not really sure at this point. It depends on future storyline.
3%
Other
1%
Poll Posted: January 16, 2006
As previously reported by Soap Central, Passions has announced that it has finally cast an actor in the role of
Miguel Lopez-Fitzgerald
. Though the show confirmed that the role had been recast back in December 2005, it was not until recently that a Passions spokesperson revealed the name of the actor that had landed the part.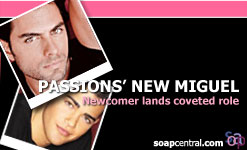 Miguel has been off screen
since July 2004
, when original Passions cast member
Jesse Metcalfe
left the show to pursue opportunities outside daytime television. After it was
reported last year
that Passions was interested in bringing the character of Miguel back to Harmony, Metcalfe quickly denied any interest on his part in returning to the show.
"I never look back," Metcalfe said in an interview. "I want to keep moving forward."
Metcalfe went on to land a role on the ABC primetime soap,
Desperate Housewives
. He is currently working on the film "John Tucker Must Die."
Meanwhile, taking over the role of Miguel is newcomer Adrian Bellani. Though Soap Central did research Bellani's acting portfolio, our search did not produce any previous acting experience for the actor.
Bellani makes his Passions debut on February 8th.