When Passions makes its move from broadcast to satellite television, it will be short several of its core cast members. One of those actors exiting the show, Adrian Bellani (Miguel Lopez-Fitzgerald) broke the news of his impending exit to fans via his personal web site.
"I have decided not to renew my contract with Passions," Bellani announced on his official web site.
How do you feel about Bellani's decision to exit Passions?

I'm a Miguel fan and hope that the show decides to recast the role.
50%
I won't be able to see Passions once it ends, so it doesn't really matter.
29%
I'm not really a Miguel fan, so the character can be written out.
12%
I'm upset. I really liked Bellani's work as Miguel and I will miss him.
7%
It's too soon to tell how Bellani's exit will impact the show.
2%
Other
1%
Poll Posted: June 29, 2007
As previously reported
by Soap Central, NBC announced earlier this year that Passions would not be on its fall schedule. The soap was bumped to make room for a fourth hour of the morning news program, Today. However, the network remained optimistic that the show would live on in some other format.
Nearly three months after
the cancellation announced was made, it was revealed that DirecTV had picked up the rights to the show and would begin broadcasting it in September. It was this gap of uncertainty that led Bellani to make his decision to exit the show.
"After a long wait and wondering whether or not I was even going to be asked back on the show, my team (agents and managers), and myself decided to pursue other opportunities," the actor explained. "We all believe this is the right decision to take, although it was very hard. My decision is simply a career choice, and has nothing to do with the show Passions. I believe life is full of risks, and this is just one i have to take. I am a dreamer, and i dream of having a big successful career. One of my dreams did come true...Passions."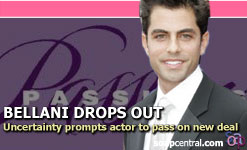 Bellani joins James Stevenson (Jared Casey) and Silvana Arias (Paloma Lopez-Fitzgerald) in their decisions not to make the move to a post-NBC Passions.
Bellani joined the cast of Passions in February 2006 and he will remain with the show through its finale on NBC. A show spokesperson indicates that the role of Miguel will most likely be recast sometime in the future.