As previously reported, Emmy-nominated daytime vet Andrea Evans (Rebecca Hotchkiss) will remain with Passions when the show moves from broadcast television to satellite. The actress is one of a growing list of stars that have inked on to continue on in their well-known roles.
It may be puzzling to fans, but despite Evans' prominent status on Passions, the actress has never been on contract with the soap. While Evans apparently has no intention of straying from Passions, not having a contract allows the actress to pick and choose other projects that may come along. Most soap stars need to get permission from the network in order to pursue outside projects that might interfere with their daytime work schedule.
Prior to joining Passions, Evans appeared on CBS's The Bold and the Beautiful. However, she may forever be best known as Tina Lord on ABC's One Life to Live. Evans enjoyed eight years at One Life to Live, with two gigs spanning 1978 to 1981 and 1985-1990. In 1988 the actress earned a Daytime Emmy nomination for Outstanding Ingénue (now called Outstanding Younger Actress).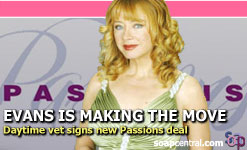 In recent weeks rumors have swirled about the possibility that Evans might return to One Life to Live. Of course, there have been rumors for many, many years about the actress' supposedly impending return to the show.
Evans joined the Passions cast in September 2000, taking over the role of Rebecca from The Brady Bunch alum Maureen McCormick.