The excitement over Shemar Moore's (Malcolm Winters) return to The Young and the Restless appears short-lived. Not only did the show not get the ratings boost it had been hoping for from his return, but the actor is already planning his exit from the show.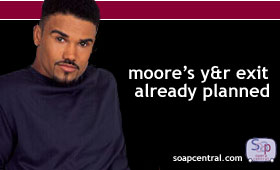 Moore's publicist has revealed that the actor's return will be an extremely limited engagement: he only signed a six-month contract. Moore made his first on-air (re)appearance on October 27th.
"He's auditioning now [for other projects] and he has two or three films coming out next year," the rep stated. "You know how this industry is. At least [The Young and the Restless will] have him for six months."
The ratings for the week of Moore's return were flat -- 4.2 -- and identical to the week before. However, Moore had been slated to return the following week, so some fans may not have been tuned in because they were unaware that his return had been bumped up. Ratings for the week of November 1 were not available at "post time." One ratings point is equal to just under 1.1 million viewers.
The good news for The Young and the Restless is that Moore's return gig will encompass three of the Sweeps period, with his potential exit coming during the May Sweeps period. Sweeps is a period where a show's ratings determine the amount advertisers are charged to advertise during that program.
A spokesperson for the show declined comment, saying that it is not network policy to comment on actors' contracts. Requests for an interview with Moore were not returned.