The Young and the Restless recently marked its 1,000th week as the top-rated daytime drama series. But the CBS soap is not about to rest on its laurels - especially after a 2007 that had many fans complaining about the direction of the show and the quality of its stories. Now the show has planned a series of comebacks and crossovers to win back old viewers and attract new viewers..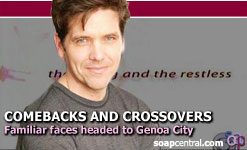 First up on the nostalgia road trip is former soap star and rocker, Michael Damian (Danny Romalotti), who announced on his personal website that he is reprising his role as Y&R's Danny Romalotti. It's been over three years since fans last saw Damian on daytime television. The actor, who joined the show in 1980, had seen his character without story for some time and show execs decided to write him out.

Although there is no word yet on how many episodes he will tape, Damian asked that fans check his website for updates on developing news regarding his status with the show.

Damian's first airdate is March 18th.
In a somewhat unsurprising move, presumably spurred by the return of Michael Damian, The Young and the Restless has approached Lauralee Bell (Christine Williams) about a possible to return to the show. Bell's character is the former wife of Damian's Danny.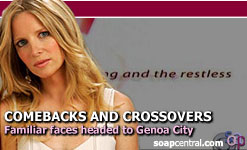 Bell, the daughter of Y&R creators Bill and Lee Phillip Bell, first appeared on The Young and the Restless in 1983. Since 2000, however, her appearances have been more and more sporadic as the actress had focused more on raising a family than her television career.

Though Bell's on-screen persona crossed over to The Bold and the Beautiful for a brief appearance in 2007, it's been nearly two years since the actress appeared on The Young and the Restless.

Despite the show's efforts to get Bell to return, the actress declined. [Read the full story.]
Which of these Genoa City arrivals are you most excited about?

Michael Damian (Danny Romalotti)
41%
Victoria Rowell (Drucilla Winters)
36%
Lauralee Bell (Christine Williams)
9%
I'm excited by all of the arrivals.
7%
I'm not really thrilled by any of these arrivals.
5%
Lesli Kay (Felicia Forrester)
2%
Tracy Melchior (''Erin'')
1%
Other
0%
Poll Posted: March 3rd, 2008
Speaking of crossovers, The Young and the Restless will look to continue its crossovers with its 30-minute spinoff sister soap, The Bold and the Beautiful, in 2008. Emmy winner
Lesli Kay
(
Felicia Forrester
, B&B) will crossover to The Young and the Restless in April, a move that may become at least semi-permanent. Felicia's B&B storyline has all but dried up, but to keep Kay under contract to the Bell soaps, B&B executive producer Bradley Bell is willing to loan the actress to Y&R until he finds a way to reintroduce her to the B&B canvas.
"Of course this is all still dependent on whether or not the crossover sparks with (the) audience. Y&R, which boasts more hunks than they know what to do with, needs her sex appeal, and her talent will fit right in," an insider says.
Kay's stint on Y&R will mark her fourth soap role in just four years, three of them on CBS soaps.
In 2001
, Kay was named Outstanding Supporting Actress at the Daytime Emmys for her work on
As the World Turns
.
Kay began taping at The Young and the Restless on February 28th.
Another B&B actress may soon appear in Genoa City, but it won't be in the role that most viewers would expect. Insiders say that Tracy Lindsey Melchior (Kristen Forrester, B&B) had "a very strong audition" for the role of Erin, described as a woman who will fill out the young adult set. Melchior has appeared on a recurring basis as Kristen Forrester Dominguez on B&B for five years. As is the case with Lesli Kay, the Y&R role is seen as a serious attempt to keep Melchior from leaving the Bell family soaps.