Nearly two years after being unceremoniously dumped from The Young and the Restless, comes word that Eileen Davidson (Ashley Abbott) is returning to Genoa City. Sure, Davidson has brought Ashley back to Y&R for several guest appearances since leaving in 2007. This time, however, Ashley is coming home to stay.
The reason for Davidson's exit are said to be many. Davidson had been a vocal critic of one of then-head writer Lynn Marie Latham's storylines. Elsewhere, quotes attributed to Latham showed that the scribe didn't "understand the character." Amid all of this, a slow, but steady decline in Y&R's ratings was beginning to take an economic toll on the show. Shortly thereafter, Davidson found herself without a job.
Davidson was not without a job for too long. On the day the actress made her final appearance on The Young and the Restless, CBS announced that Ashley Abbott was moving to Y&R's sister soap, The Bold and the Beautiful.
"Eileen is an extraordinary actress with an unlimited range of talent," B&B executive producer and head writer Bradley Bell said in a statement at the time. "It is my pleasure to welcome her to B&B."
The Bold and the Beautiful rolled out the red carpet for Davidson, but the honeymoon was short-lived. Before long, Ashley was relegated to the back burner. While Bell worked to develop story for the actress' alter ego, Davidson was back at the Y&R set taping guest appearances. Earlier this summer, Davidson was dropped to recurring status with The Bold and the Beautiful and removed from the show's opening credits.
The Young and the Restless, now under the writing vision of Maria Arena Bell and co-head writer Hogan Sheffer, already has a "major story" planned for Davidson's return. While the show remains tightlipped about the details, soapcentral.com has learned that Davidson's return will coincide with the show's on-location shoot in Paris, France. The top-secret plot also involves Eric Braeden (Victor Newman), Sharon Case (Sharon Newman), and Joshua Morrow (Nicholas Newman).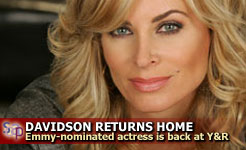 Davidson originated the role of Ashley Abbott in 1982. She remained with the show for six years before jumping to roles on NBC's Santa Barbara and Days of our Lives. Her work on DAYS -- in five different, simultaneous roles -- earned Davidson a Daytime Emmy nomination in 1998. Davidson returned to The Young and the Restless in 1999.
In related news, Davidson is flexing her writing skills. The actress has penned the novel Death in Daytime, which hits bookstores on October 7th. The fictional tale, which Davidson teases also includes some "very loosely based [material] on real people and events", revolves around a soap opera diva who is accused of killing her show's head writer.
Davidson makes her return to The Young and the Restless on September 26th.