It is a decision that will surely have many fans of The Young and the Restless up in arms. However, fans of a rival soap may be sitting quietly with their fingers crossed. In a surprising casting decision, Y&R execs have decided to fire Eileen Davidson (Ashley Abbott).
Davidson originated the role of Ashley in 1982 and remained a core part of the Y&R cast through 1989. The actress then jumped networks and enjoyed a two-year run on NBC's Santa Barbara. After the cancellation of Santa Barbara, Davidson remained with the network and set a daytime television record: she appeared simultaneously as five -- yes, five -- different characters on Days of our Lives. For her work on DAYS, Davidson was nominated for her first Daytime Emmy in the Outstanding Lead Actress field. Davidson's stint on DAYS lasted from 1993 through 1998.
In 1999, Davidson returned to Genoa City to play a single character on The Young and the Restless. During her absence from the CBS soap, two other actresses had played the role of Ashley - Brenda Doumani from 1988 to 1995 and later Shari Shattuck from 1996 to 1999.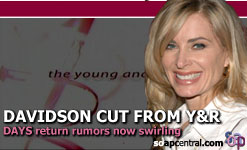 In 2003, Davidson earned her second nomination for the Outstanding Lead Actress Daytime Emmy. It was her first such honor for her work on The Young and the Restless.
As the recent months have gone by, Davidson's Ashley has been more of a background character, and the actress has expressed some of her frustration with her lack of air time in various interviews.
Now, there is word that Days of our Lives might be interested in having at least one of Davidson's former alter egos return to the fold. Which character is obviously still very much up in the air.
A CBS spokesperson would not comment on Davidson's firing; some fans are already speculating about Ashley's possible role in the whodunit death of Carmen Mesta.
Davidson will continue to air through January 11, 2007.