The Melody Thomas Scott (Nikki Newman) era at The Young and the Restless has officially ended... at least for now. Several sources tell Soap Central that Scott's alter ego has officially been written out of the show because contract talks between the actress and show executives have hit an impasse.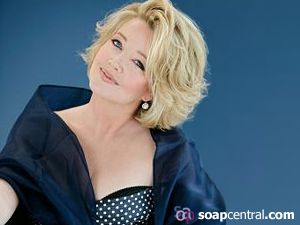 As reported last month, Scott, like most daytime stars in this current economic climate, was told that she'd have to take a reduced salary in her new contract. Scott refused. Show execs countered with an offer to have Scott appear on a recurring basis. The move, it would seem, would allow for both sides to benefit, while at the same time making mutual sacrifices. Scott also balked at being taken off contract.
Now, both sides have reached a stalemate. To complicate matters, the show's writing team is now crafting storylines that will be filmed after the expiration of Scott's current contract. Since it is not yet known if Scott and show brass will reach a deal, Nikki has been written out of the show.
The show could easily have put out a casting call to find a new actress to take over the role. That's the scenario that played out in early May when Scott's co-star, Jess Walton (Jill Abbott), initially refused to take a slashed paycheck. Walton, however, backed down from her demands and signed a new contract with the show. It is widely believed that Y&R execs do not want to recast Nikki and are hoping that Scott will return to the bargaining table and, eventually, sign her name to a new contract.
"I'm not sure if Mel and [husband and former Y&R executive producer] Ed [Scott] can afford not to be working right now," a close friend told TVGuide Canada.
If the scenario rings familiar, it's because Scott has been in a similar situation before. In 2001, contract talks between Scott and show executives also went down to the wire. During those talks, Scott was said to have cleaned out her dressing room and walked off into the sunset. A few weeks later, CBS denied that Scott had left and reports surfaced that Scott had cleaned out her things because her dressing room was being renovated.