Y&R fans can breath a sigh of relief: Melody Thomas Scott (Nikki Newman) and executives with The Young and the Restless have reached a deal on a new contract.
Scott recently sat down for an exclusive interview with TVGuide Magazine's Michael Logan to explain why she was willing to walk away from a show she's called home for more than 30 years. She also discussed what brought about her return, while carefully dodging questions about how her character will be written off the canvas -- albeit temporarily.
As previously reported by Soap Central, contract talks between Scott and Y&R executives broke off last month. But as the old adage says, the show must go on -- and it did. The daily process of putting together a show continued both on-camera and behind-the-scenes, where the writing team was developing story that would air after the expiration of Scott's then-current contract. Unsure if the two sides would reach a deal, the writers were forced to ink a story that would take Nikki off the canvas. Exactly what that story involves is a closely guarded secret.
However, a recent "tweet" by actor Kevin Schmidt (Noah Newman) revealed that someone close to his character had died. Schmidt did not reveal whose Y&R alter ego had died, but speculation immediately turned to his character's grandmother, Nikki. Since that time, the show has issued a memo prohibiting such communication by its stars.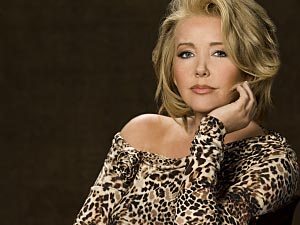 Scott remained coy when Logan pressed her if it was possible that Nikki would be killed off.
"I really have to hand it to the writers. Nobody knew how this [contract situation] was going to end so they very cleverly figured out a way to get me off the show," Scott teased. "I never say stuff like this, but I have been so knocked out, so impressed with the writing of the episodes that air the first week of August. Please put this in your article: That week is not to be missed."
Logan also prodded Scott about the similarities between her most recent contract stalemate and one in 2001 that had the actress clearing out her dressing room. Of her previous impasse, Scott stated that "[w]hen things get to the point where you know you might never enter that building again [..] you pack 'em up while you have the chance!"
Scott stated that she'll be off-screen for "a short amount of time" and that she has "not been given [an] exact date" of her on-screen return.


The terms of Scott's new contract are being kept under wraps. The actress states that her current contract -- as well as those in the past -- includes a non-disclosure clause that prohibits her from discussing the terms.
Melody Thomas Scott celebrated her 30th anniversary with the Young and the Restless on February 27, 2009.