Call it Boy Meets Door. In a somewhat surprising casting decision, The Young and the Restless has opted to recast the role of Tucker McCall. In doing so, relative newcomer William Russ is out after just a little more than two months in Genoa City.
Y&R executives have opted to move in a new direction with Tucker. In making those storyline changes, the top-rated CBS soap also seized the opportunity to snag daytime veteran Stephen Nichols (ex-Steven Johnson, Days of our Lives; ex-Stefan Cassadine, General Hospital) for a role that one publication hints is about to become much more interesting.
According to TVGuide, Russ wasn't given the boot because the show wasn't satisfied with his work. Instead, the magazine teases that Tucker will "eventually be revealed to have a shocking connection to a major denizen of Genoa City."
Earlier this month, during Soap Central's weekly radio show, Dan J Kroll surmised that Tucker might be a long-lost or forgotten Newman. When Y&R was first auditioning actors for the role of Tucker, Internet gossips reported that Tucker was really a code name being used to mask secret attempts to recast Victor Newman during Eric Braeden's contract negotiations. CBS immediately issued a statement denying that it was recasting Braeden's role.
"When it was learned that Braeden was being written out of the show, I wonder if the writers decided to have Tucker fill the Victor void -- not by being Victor, but by being another Newman," Kroll suggested before the Tucker recast was announced. "Now with Braeden back, the show may need to reshuffle its story ideas since there could potentially be two Newmans in town."
Of course, it is not a definite that Tucker is really a Newman -- it's all just speculation at this point. Another popular theory is that Tucker is really Katherine Chancellor's son.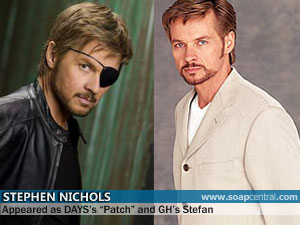 Meanwhile, show brass has nothing but kind words for the outgoing Russ, who is perhaps best-known for his seven-year run as Alan Matthews on the 1990s sitcom, Boy Meets World.
"William Russ is a talented actor and we enjoyed working with him," co-executive producer and head writer Maria Arena Bell said in a statement. "However, we decided to take the character in another direction."
"[Russ] did a wonderful job while he was here," added Paul Rauch, Y&R's other co-executive producer.
The show declined to offer addition details on what moving Tucker in "another direction" might entail.
Nichols is a long-time soap opera veteran. The actor got his start in daytime in 1985 on Days of our Lives. To many viewers he will also be known as "Patch." Nichols remained with Days of our Lives through 1990, when he left to pursue other opportunities. In 1992, he appeared briefly on Santa Barbara. In 1996, Nichols began a six-year stint on ABC's General Hospital. Nichols eventually landed back on DAYS, a return that helped usher in DAYS' renewed interest in its core characters. He was let go from the show in February 2009 amid a series of cost-cutting measures at the sole NBC soap.
The actor was nominated for an Outstanding Supporting Actor Daytime Emmy in 1988.


By snagging Nichols, The Young and the Restless may have thwarted future attempts by General Hospital to get the actor back on its canvas. As reported earlier this year by Soap Central, the ABC soap is looking to bring back the villainous Cassadines. Those plans were put on an indefinite hold due to storyline changes. Now, the show may have to move forward with those plans without Stefan -- or at least without the actor who is known for playing him.


Nichols taped his first scenes on December 18. Those scenes will air on January 27.
Photo: DAYS, ABC