If you've been anxiously awaiting the return of Noah Newman to Genoa City, you might have to continue waiting -- and you might not immediately recognize the character when he does return to town.
Actor Kevin G. Schmidt (Noah Newman), who has played Sharon and Nick's son for the past two years, has revealed that the show has not approached him about returning to the top-rated CBS soap. And just hours after the actor made his announcement, another actor's name popped up as his probable replacement.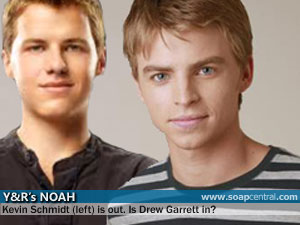 "I have not [been] asked to return as Noah Newman," Schmidt posted to his Twitter page. "A huge thank you to the cast and crew! Onward and upwards!"
The award-winning actor took over the role of Noah in August 2008. He took leave from the show earlier this year when he landed the lead in the Cartoon Network original series, Unnatural History. The series is the cable channel's only live-action program and one of its highest-rated programs.
In addition to his daytime work, Schmidt has appeared in several feature films, most recently the "squeakquel" to the Alvin and the Chipmunks movie.
Now that Schmidt is Noah longer with Y&R, there's been rampant speculation that Emmy-nominated former General Hospital star, Drew Garrett (ex-Michael Corinthos) has been offered the part. Garrett made waves when he was cast as an "aged" Michael in April 2009. A year later, he was making news because he was ousted from the role with no explanation -- a role that not only earned him an Outstanding Younger Actor nod at the Daytime Emmys, but also a role that was incredibly popular with fans.
Though Internet posts claim that actress Laura Wright (Carly Jacks, General Hospital) announced the news on her Twitter page -- that is not the case. Wright retweeted, or forwarded, a message written by someone else that claimed Garrett had been hired by The Young and the Restless.
However, one of Garrett's former co-stars has tweeted news that Garrett has not been cast on Y&R.
"Drew Garett is not heading to Y&R to replace former Noah Newman," Lexi Ainsworth (Kristina Davis) posted on her Twitter page after speaking to Garrett.
A Y&R spokesperson would not confirm Schmidt's exit or Garrett's rumored addition to the show's cast.