Though unconfirmed by the network, Soap Central has learned that Kimberlin Brown (Sheila Carter) could soon be returning to daytime television -- on The Young and the Restless. The news comes just a few months after the actress was rumored to be returning to Y&R's sister soap, The Bold and the Beautiful.
At the Jimmy V Celebrity Golf Classic event in Raleigh, North Carolina in August, Brown told the CBS affiliate WRAL that she had been contacted by The Bold and the Beautiful about a possible return.
"I actually got a call from [B&B head writer and executive producer] Brad Bell a while back asking if I 'd be interested in coming back, and I said, 'Sure!'" Brown revealed. "The thing with daytime is that the storylines are [written] so far in advance, you just never know when [you might be needed.]"
As for where her alter ego might be hiding out, Brown stepped into character for a humorous response.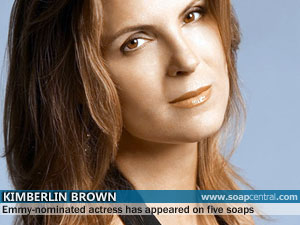 "I am still getting healthy from my car accident," Brown smiled. "Right now, Sheila is hiding out in North Carolina -- playing golf. But don't worry: Sheila always comes back!"
It's been nearly four years since Brown last stepped into the role of the evil Sheila Carter. Brown originated the role of Sheila in 1992 and remained on The Young and the Restless through 1998. Four years later, Sheila popped up in Los Angeles on The Bold and the Beautiful for a series of appearances that spanned from May 2002 through October 2003. In 2005, Brown headed back to Y&R for a six-month run in Genoa City.
If Sheila does return to Genoa City -- or anywhere else, for that matter -- the writers will have their work cut out for them: When last spotted, Sheila had undergone plastic surgery to look like Phyllis Summers. During the final few months of Sheila's most recent reign of terror, Emmy winner Michelle Stafford played the role of the facially altered Sheila. Explaining how Sheila reverted to her old look would definitely need to be addressed.
Of course, there is also the possibility that Brown could take on another role -- or that the last "Sheila" wasn't really Sheila. Speculation on Soap Central's message boards has Sheila as Ryder's mother. In the soap world, the possibilities are endless.
In 1992, Brown earned a Daytime Emmy nomination in the Outstanding Supporting Actress category for her work on The Bold and the Beautiful.
In addition to her work on The Young and the Restless and The Bold and the Beautiful, Brown has also appeared on three other daytime drama series. In 1999, Brown made a special appearance as Shelly Clark on the now-called NBC soap Another World. From 1999 to 2002, she appeared as Rachel Locke on ABC's Port Charles. In 2004, One Life to Live's casting department cast Brown as an emergency substitute for the role of Paige Miller, after the actress they'd originally hired, Mary Beth Evans, decided not to join the show.
Brown, who has reportedly inked a one-year contract, is said to be returning in early 2010.