The Young and the Restless is now confirming that Stacy Haiduk (Emily Petersen and Patty Williams) has been let go from the show. The actress' contract with the CBS soap has reportedly not been renewed.
Reports of Haiduk's ouster first surfaced over the weekend, when a fansite announced that the actress would be dropped from contract status.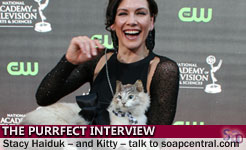 "After a critically acclaimed and captivating run as Patty Williams and Dr. Emily Peterson on The Young and the Restless, Stacy Haiduk's contract was not picked up again," the fan site StacyHaiduk.info reports.
"Stacy Haiduk is a fantastic actress and we are thrilled with her performances as Patty Williams and Dr. Emily Peterson," Y&R's co-executive producer/head writer Maria Arena Bell said in a statement. "Though she is going off contract we hope that Stacy will reprise the role in the future."
Sources tell Soap Central that show brass, realizing how unhappy fans were with the look-alike plot, wanted to remove traces of the controversial storyline from the canvas. After some time has passed and memories of the story fade, Haiduk could be brought back.
For much of the latter part of 2009, Haiduk was featured front and center in Y&R's storylines, as the actress pulled double-duty as psychiatrist Emily Petersen and the mentally unbalanced Patty Williams. As a result, many critics were stunned when, earlier this year, Haiduk did not receive a Daytime Emmy nomination.
Though not nominated, Haiduk was the talk of the Emmys in 2009. Haiduk appeared on the Red Carpet with a purse made out of a stuffed cat, her co-star on the show, "Mr. Kitty."
Haiduk joined the cast of The Young and the Restless in March 2009 after a short-term run on ABC's All My Children. In addition to her work in daytime, Haiduk has made numerous appearances in primetime, and landed roles in nearly a dozen feature films.
Haiduk exits Y&R on August 6, but she won't be jobless for long. The actress has been hired to play a prison warden on Days of our Lives. She'll first air on the NBC soap in September.
Photo: Dan J Kroll/Soap Central