Do you think B&B's Gabriela was a waste of a character?


Yes. I never cared for the character and wish she hadn't been on B&B.
47%
I actually loved Workman's work as Gaby and wish she was staying.
31%
Gaby's storylines were bad. Giving her other stories would have helped.
13%
It doesn't matter to me what B&B decided to do with Gaby.
5%
I think that it might have made more sense for B&B to recast the role.
4%
Other
0%
Poll Posted: October 31st, 2005
Just seven months after joining the cast of The Bold and the Beautiful,
Shanelle Workman
(
Gabriela Moreno
) finds herself without a job. The CBS soap has released the actress from her contract.
The decision to ditch Workman's character should come as no surprise to fans of the show. Viewers never really caught on to Gaby and B&B head writer Bradley Bell is well known for quickly cutting his losses with failed characters and storylines.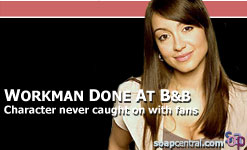 "She's a wonderful actress and was a great addition to the B&B cast," Bell says of Workman. "We all wish her much success in her future endeavors."
For Workman, the dismissal from The Bold and the Beautiful marks the second time that the actress has been abruptly sent packing. Workman was previously released from her contract as
Sarah "Flash" Roberts
on ABC's
One Life to Live
.
Workman last aired on October 27th. The role of Gaby will not be recast.