It's far from a done deal, but soap opera diva Kim Zimmer (ex-Reva Shayne, Guiding Light) could one day be headed to The Bold and the Beautiful. According to the four-time Emmy-winning actress, she's had at least one talk with a B&B executive.
"I did meet with [B&B head writer and executive producer] Bradley Bell and we had a wonderful conversation about many things," Zimmer said in a message on her official web site, without commenting further on the details of the discussion.
If Zimmer does make a move to B&B, she'll be reunited with two of her former co-stars: Rick Hearst (Whip Jones) appeared as Guiding Light's Alan-Michael Spaulding in the 1990s and Zack Conroy (Oliver Summers) played James Spaulding in 2009.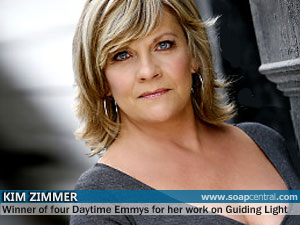 Regardless of her future with B&B, there is at least one future career move that is a done deal: Zimmer will be releasing a book later this year. At the Daytime Emmys in September 2009, Zimmer first told Soap Central about her plans to write a book "about the morning of April 1, 2009 through September 18." On April 1, 2009, CBS announced its decision to cancel Guiding Light, and the 72-year-old soap's final episode aired on September 18, 2009.
"I'm trying to write a book... and I'm trying to get it together for a Christmas release, but that's not gonna happen. I think it's more about my perching my feelings on paper right now, and I'm just writing like crazy," Zimmer revealed. "I don't have a format. I don't know how I'm putting it together. I don't have a theme, [but] I'm having fun putting my feelings down."
Zimmer is likely to have many feelings and memories to share. In addition to the more than 21 years she spent on Guiding Light, Zimmer has also appeared on ABC's One Life to Live and NBC's Santa Barbara.
Zimmer is the latest soap star to author a book based on her experiences in the soap opera industry. Eileen Davidson (Ashley Abbott, The Young and the Restless) has written two novels in her Soap Opera Mystery series. Recently, Victoria Rowell (ex-Drucilla Barber, Y&R) announced her plans for a May 2010 release of Secrets of A Soap Opera Diva, a fictitious work set in the world of daytime drama.
According to Zimmer, the still-untitled book will be out by the end of 2012 under the New American Library/Penguin banner.
Photo Credit: CBS