The soap opera community is courting the Latino community with a fervency never before seen on daytime television. As recent census numbers show, the Latino population has boomed over the past ten years. Now, programming executives are moving to make their shows more appealing to this audience.
Perhaps it was the now-long-gone Santa Barbara that first embraced the Latino community among daytime dramas. The show, which debuted in 1984 and ran through 1993, featured the Andrade family as well as the first interracial relationship between a Latino man and Caucasian woman -- Cruz and Eden (played by A Martinez [now General Hospital's Roy] and Marcy Walker [now All My Children's Liza]
The first unabashed move to court Latino viewers, who for years have had their own telenovela formats on cable channels such as Telemundo and Univision, was made by CBS's The Bold and the Beautiful. On May 28th, CBS began offering a Spanish simulcast of The Bold and the Beautiful over the SAP (Second Audio Program) feature on newer television sets.
Last week, NBC announced that it would offer Spanish closed captioning of Days of our Lives and Passions for a trial run this summer. According to a network spokesperson, the run will be limited to this summer because of "financial considerations."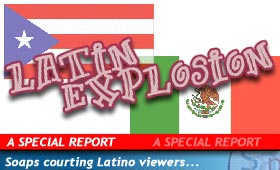 ABC, meanwhile, has reportedly been toying with the idea of Spanish simulcasts for All My Children and Port Charles for several years. ABC has not made an official announcement about these plans being put into place.
Beyond just the addition of Spanish captioning and simulcasts, soap operas have been adding more and more Latino characters to the canvas for several years.
In 1995, All My Children introduced the Santos family to Pine Valley. Having recently relocated from Texas, the Santos family was comprised of a strong, but stubborn patriarch named Hector, his wife, Isabella, and children Maria, Julia, Mateo, Anita and Rosa. Before her death, Maria was a skilled neurosurgeon. Mateo, meanwhile, is the owner and operator of his own nightclub.
At about the same time, One Life to Live introduced the Vega family. Strong-willed Carlotta, whose husband Diego had died several years before, struggled to keep her youngest son, Cristian, away from gang life. Son, Antonio, was the leader of a gang known as the "Prides." He spent 7 years in prison for murder and upon his release, was determined to keep his brother from following in his footsteps. Though Carlotta is rarely seen, but Cristian and Antonio have major storylines.
Not all placements of Latino characters have been made in the best light. Guiding Light's Santos family, for example, is heavily tied to the mob. In fact, Matriarch and mob boss Carmen Santos was shot and killed by her son, Danny. Danny, like his similarly surnamed All My Children compatriot, owns and operates a nightclub. Also among the Santos clan is Father Ray Santos, a Catholic priest.
Passions introduced its viewers to its core Latino family on its very first episode. The Lopez-Fitzgeralds are featured prominently in nearly every one of the show's storylines - and have been since Passions' very first episode. Passions, perhaps more than any other soap currently on the air, has done the best job of weaving its Latino characters into the fabric of the show.
In addition to its Spanish simulcast, The Bold and the Beautiful has also added a handful of Latino characters to its roster. The show quickly moved to incorporate Antonio Dominguez, a young fashion designer, into the ongoing feud between the Forrester and Spectra families. By doing this, the show made sure that the character wasn't floating aimlessly from storyline to storyline; Antonio instantly became an integral part of the show.
As with any new character, the true challenge is to make these Latino characters appealing to the viewers - regardless of the viewer's ethnic background - and not to force these new characters upon the dedicated soap viewer.
Critics of the Latin explosion in daytime television have argued that soaps are "exploiting" Latino viewers. The criticism claims that show execs are shamelessly trying to lure in Spanish speaking viewers to boost sagging ratings. These critics believe that after the ratings are bolster and after the initial "novelty" of the Latino characters has worn off, the characters will quickly disappear from front burner status and the traditional Caucasian mainstays will once again be returned to the forefront.
Another subject of criticism comes from viewers of other ethnic backgrounds. Says one Soap Opera Central visitor, "Never has [daytime television] made such an effort to cast Black actors. You can watch an entire week of soaps and see barely a handful of African Americans." Similarly, there are few Asian performers on the soaps and only a sprinkling of gay and lesbian characters.
Remaining optimistic, some daytime viewers are hoping that the diversification of the soap opera canvas is not just a passing fad and that each passing week will result in casts more closely resembling America as a whole.
Only time will tell if these hopes become reality.
---
INS AND OUTS: WHO'S COMING AND WHO'S GOING
MAKING HEADLINES: NEWS FROM AROUND THE SOAPS