Less than a week after Soap Central first reported on All My Children's plans to recast the role of Greenlee Smythe comes word that the ABC soap has now found a replacement for Rebecca Budig. The show was unable to convince the Emmy-nominated Budig to return to the role long-term; Budig had said that she would return to the show for a short-term story arc. The show ran into further complications as a seemingly perfect candidate for the role of Greenlee was already on the show.
A show source confirms that original Greenlee, Rebecca Budig, was approached by network executives about reprising the role. Budig, however, has relocated to Los Angeles with her husband since leaving All My Children and appears happy to remain on the West Coast. Some rumors hint that Budig might be up for the role of Brenda Barrett on General Hospital, should the show decide to recast the role.
Would you accept a recast of AMC's Greenlee?

No. If the show can't get Budig, then Greenlee doesn't need to return.
57%
I was never really a Greenlee fan, so I'm fine with her staying away.
25%
Yes, I'd really like to see Greenlee return -- not matter who plays her.
10%
Maybe. It all depends on how Greenlee is written back into the script.
6%
Yes. Fire Egan as Annie -- and then rehire her as the new Greenlee.
2%
I have no opinion about the possible return/recast of Greenlee.
0%
Other
0%
Poll Posted: March 18, 2007
Insiders and Internet users alike have stated that Melissa Claire Egan (Annie McDermott) would have been the perfect choice for a Greenlee recast. The actress bears a striking resemblance to Budig and has been well-received by fans as a potential love interest for Ryan.
Meanwhile, the show started screen-testing potential Greenlees opposite Cameron Mathison (Ryan Lavery) in February. While it is unclear how many actresses tried out -- or if any of them were well-known names -- the show has found an actress to take over the role of Greenlee.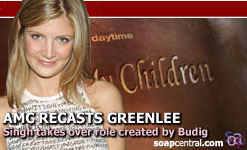 "Sabine Singh has been cast in the contract role of Greenlee Smythe Lavery on All My Children," a spokesperson for All My Children said in a statement.
Singh is an accomplished actress with numerous television and film credits. She has recently guest-starred CSI: NY, Las Vegas and Charmed. In addition, she played the role of Martha Stewart's daughter in the unauthorized tele-movie Martha Behind Bars.
Budig enjoyed a six-year run as Greenlee from August 1999 through November 2005. During that time she was nominated twice for Daytime Emmys in the Supporting Actress category.
Singh makes her All My Children debut on April 16th.