"Vincent Irizarry will return to AMC, playing the role of Dr. David Hayward," a show spokesperson confirms.
Daytime veteran Vincent Irizarry (David Hayward) won't be without a job for long. Just a few weeks after the actor was axed from his most recent soap gig on CBS's The Young and the Restless comes word that Irizarry already has a "new" job. Since learning of Irizarry's ouster from television's top-rated soap, fans of Irizarry have been clamoring for another soap to pick up the actor. Their efforts were rewarded: Irizarry will reprise the role of David Hayward on ABC's All My Children.
Irizarry's David Hayward will return to Pine Valley with many of his previously existing ties still very much in place. Among those ties are Babe Carey, David's daughter; Krystal Carey, Babe's mom; and former lover, Erica Kane. During his previous stint in town, David also made many (many!) enemies and unfortunately for him, many of those Pine Valley residents are still in town.
David Hayward was originally slated to appear only for a brief time on All My Children. Irizarry first appeared in Pine Valley in November 1997 and, as had been planned all along, remained with the show on a short-term basis through March 1998. At the time, Irizarry lived on the West Coast and the actor expressed concerns about uprooting his family to move to New York. However, fans and network execs were so taken by Irizarry's portrayal of the dastardly Dr. Hayward that the actor was offered a long-term contract in July 1998. He accepted the offer.
Despite being front and center in many storylines over the next eight years, Irizarry's on-screen time abruptly dried up by the end of 2005. In 2006, the actor announced that he was "deeply saddened" to report that he would be leaving his Emmy-nominated role on the ABC soap. Speculation immediately surfaced that Irizarry would return to another former soap gig on Guiding Light.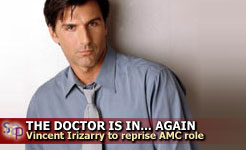 There were contradicting tales about whether or not Guiding Light actually wanted Irizarry. An insider told Soap Central that GL execs were in talks with Irizarry to reprise the role of the supposedly dead Lujack. In an interview with TVGuide, however, head writer David Kreizman publicly denied reports that the show had any such plans.
Talk of a Guiding Light return quickly faded and Irizarry joined The Young and the Restless in 2006 as part of a murder mystery. Though his character was originally conceived as a short-term, recurring role, execs soon realized that Irizarry's character, David Chow, had story potential. Irizarry was signed to a contract and he remained with the show for over a year. In June, a curt message appeared on Irizarry's official web site announcing that he had been let go from Y&R.
Fans of Irizarry (affectionately called FOVIs) immediately put pen to paper -- or fingers to keyboard in this Internet age -- and sent letters requesting that both All My Children and Guiding Light consider bringing back the popular star.
An All My Children spokesperson tells Soap Central that Irizarry's first airdate will be October 23rd.