On-screen, actress Alicia Minshew (Kendall Hart) has played mom to little Ian and Spike for several years. Now the Emmy-nominated actress had revealed that she will soon be a mom in real life.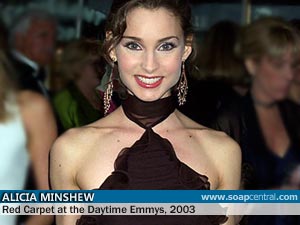 "Richie [Herschenfeld, her husband] and I are so thrilled!" Minshew told Soap Opera Digest. "I can't wait to be a mom!"
All My Children fans will remember that last year, writers placed Kendall in a coma in order to accommodate some down time for the always-working Minshew. During her two months away from Pine Valley, Minshew got married and enjoyed some quiet time as a newlywed.
It's already been a big year for the actress. In May, Minshew received her very first Daytime Emmy nomination.
Don't expect to see Kendall giving birth to another child. All My Children is not expected to write Minshew's pregnancy into the show.
Photo Credit: Dan J Kroll/Soap Central

RELATED STORYB&B star, DAYS hubby expecting their first child