Despite reports made last week by Soap Central, an ABC spokesperson insists that Marj Dusay (Vanessa Cortlandt) will not be leaving All My Children.
Rumors surfaced earlier this month hinting that Dusay's Vanessa would exit the show in February. Additional speculation teased that Vanessa would be revealed to be Proteus, Pine Valley's drug lord. Additionally, head writer Richard Culliton's apparent desire to pair Palmer Cortlandt and Opal back together seemed to leave Vanessa out in the cold romantically.
At the time, both Dusay's spokesperson and ABC declined to return calls regarding Dusay's future with the show.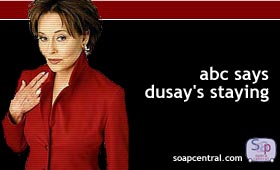 Dusay joined the cast of AMC on February 4, 1999 fresh from a long-term run on CBS's Guiding Light.
While offering no detailed information, an ABC spokesperson contacted Soap Central late last week to announce that Dusay's future with the show was solid.
"She's staying," the spokesperson tells Soap Central.
On her official web site, Dusay gave fans the following message, "First and foremost... Thank you all for your support! It thrills me to know you appreciate my contribution to your favorite show (and mine!) AMC. And now, what you really want to know, I signed a new contact with All My Childen, that I am quite pleased with. "
The news should list the spirits of Dusay's fans. Dusay has garnered numerous fans from her work on AMC, Guiding Light (Alexandra Spaulding. 1993-1996, 1998-1999), Days of our Lives (1993), Santa Barbara (Pamela Capwell, 1987 to 1988; 1991) and Capitol (1982).
In a recent WT? On the Spot poll, 36% of poll respondents who identified themselves at AMC viewers said that they'd be disappointed if Dusay was released from the show. However, the loss would have been GL fans' gain. In a similar poll asking GL viewers if they'd welcome the return of Dusay to GL if she was released from AMC, an overwhelming 85% said that they'd be overjoyed by Dusay's return to Springfield.
According to an inside source, Dusay has re-signed for four more years.