Julie Pinson
is joining the cast of As the World Turns. The actress, who has seen stints on three other daytime drama series, has signed on to play the recurring role of Janet Ciccone.
In just 11 years, Pinson has gone from soap opera newcomer to a fan-favorite veteran. The actress made her daytime debut on Port Charles, bowing in the ABC soap's first episode in July 1997. She remained with the show for five years. Her exit from the half-hour General Hospital spinoff in 2002 was part of a stunning plot twist that saw her character unexpectedly killed off.
It took two years, but Pinson eventually resurfaced on the soaps. In 2004 she landed the recurring role of Shiloh on the top-rated CBS soap The Young and the Restless. The Y&R role was only short-term and Pinson exited after just three months with the show.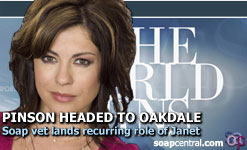 Throughout her time in daytime, there were always whispers that Pinson could work out as a great recast for the role of Billie Reed on Days of our Lives. While it took several years for rumor to become reality, Pinson did finally join the NBC soap in August 2004. With the addition to DAYS, Pinson completed the daytime trifecta, appearing in programs on all three networks. Pinson's character was written out earlier this year as part of the show's efforts to trim its operating budget.
On the As the World Turns set, Pinson will be reunited with two of her former co-stars - Marie Wilson (Meg Snyder; ex-Karen Wexler, Port Charles) and Austin Peck (Brad Snyder; ex-Austin Reed, Days of our Lives). Wilson and Pinson's Port Charles alter egos were colleagues and friends. How their new characters will interact in Oakdale has yet to be determined. However, Pinson and Peck's relationship will be decidedly different this time around. On DAYS, the actors' characters were siblings, but on As The World Turns, their characters are former lovers.
"It's a little incestuous," Pinson joked of her new interaction with Peck in an interview with Soap Opera Digest.
Though As the World Turns is her fourth daytime gig, it marks Pinson's first job on an East Coast soap -- and she is quickly adjusting to the differences. West Coast soaps typically are filmed in spacious studios complete with parking lots. Studio space in New York comes at much more of a premium and commuting usually involves a subway, bus or taxi cab.
Pinson makes her As the World Turns debut on May 8th.