Judi Evans is returning to daytime, but she will not be heading back to the show that many viewers expected. Instead, the veteran actress is headed to a brand new soap: As the World Turns.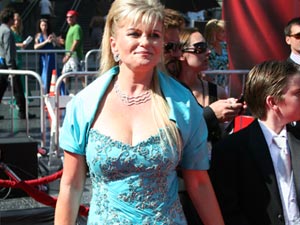 Evans has been signed to play the newly created role of "Maeve." No additional details are available about the character at this time.
This is not the first stop for Evans on a Procter & Gamble-owned soap. In 1983, Evans originated the role of Guiding Light's Beth Raines. A decade later, she appeared as Paulina Cory Carlino on Another World.
It was widely expected that Evans would reprise her role as Adrienne Kiriakis on Days of our Lives, especially after the NBC soap announced that Wally Kurth (Justin Kiriakis) was returning to the soap after an 18-year absence. Kurth played Evans' on-screen husband. Evans played Adrienne on two separate occasions: 1987 to 1991 and again from May 2007 to January 2008. Just before her reprisal of the role, Evans appeared for four years as Bonnie Lockhart. It is unclear if DAYS executives approached Evans about a possible return.
Evans earned a Daytime Emmy win in 1984 for her work on Guiding Light. She's received three additional nominations
Evans will make her As the World Turns debut in late August.