In a stunning turn that has fans of two soaps in an uproar, Cady McClain (Rosanna Cabot) has announced that she is exiting As the World Turns. Her character was brought back to the CBS soap earlier this year, but the storyline is going to wrap sooner than expected. The news has All My Children fans hoping and wishing that the actress returns to Pine Valley.
"I have sad news. [The Powers That Be] are wrapping up the Rosanna storyline early," McClain wrote in her personal blog. "I was slated to work through February, but the story took a dramatic turn that will alter that plan. I have always been open to all possibilities, even this one, but I will be sad to have to say goodbye so soon."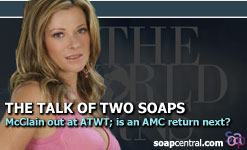 Indeed, this is a short-lived return. McClain returned to As the World Turns in July, two years after Rosanna fell into a coma. When Soap Central first reported on McClain's return to the CBS soap, fans were elated. In a poll posted on Soap Central, 64% of respondents indicated that they were "anxious for the return" of Rosanna. That exciting, however, dwindled quickly when McClain actually hit the Oakdale scene again. According to McClain, her return story failed to capture the attention of viewers.
What are your thoughts on the early exit of McClain from ATWT?

I am an AMC fan and I'm glad she's leaving. We need her back as Dixie.
56%
I'm disappointed. I was enjoying her storyline and don't want to see her go
18%
I never liked McClain's Rosanna, so I'm not upset that she's leaving.
13%
It's sad. They brought her back and then the story was really bad.
10%
I have no opinion about McClain's exit at this time.
2%
Other
1%
Poll Posted: November 12, 2007
I'm sorry the story on ATWT isn't grabbing you guys. I know a lot of thought goes into it, but I can't tell you more than that," McClain stated. "I am just a gun for hire, and I don't have any say in the story."
McClain also had no say in the story that made her available to return to As the World Turns: Dixie Martin, her character on All My Children for nearly 20 years, was unceremoniously killed off with poisoned pancakes. As many soap fans and critics often muse, no one one a soap is every really dead. So is there a way to undo the death of Dixie Martin?
McClain left All My Children under less than ideal circumstances. Rumors floated that McClain's ouster from the ABC soap had to do with her outspokenness on a number of issues - including the refusal to offer a new contract to her two-time Daytime Emmy-winning co-star, Julia Barr.
"I really am only the actor. I don't think [ABC] will ever bring me back, especially if they have removed the Dixie CHARACTER bio from the [official All My Children] website," McClain offered. "It's over. It's all done. AMC is going to become something totally different than it once was. It will be all new, all different. Why? I can only conjecture."
McClain taped her final As the World Turns scenes on December 14th. Her final airdate has not been released.