According to show insiders, The Bold and the Beautiful is actively trying to add former Port Charles star Erin Hershey Presley to its cast.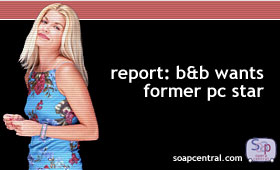 For over three years, Presley starred as Alison Barrington on the now-cancelled soap Port Charles. Following the cancellation of Port Charles by ABC in October 2003, Presley earned a spot as a finalist for a co-hosting spot on the network's talk show, The View.
In announcing the end of Port Charles, ABC Daytime President Brian Frons had said that it was his desire "to place as many [Port Charles performers] as possible throughout... other ABC Daytime shows." To date, none of the three remaining ABC soaps has opted to take the actress into their fold. Presley's husband and former co-star, Brian Presley (ex-Jack Ramsey, Port Charles) has also not landed on another soap.
There is concern among B&B execs, however, that Presley might not be able to take the role on the show because of a possible primetime project.
If CBS's The Bold and the Beautiful is successful in luring Presley to the show, it would reunite the actress with her former Port Charles love interest, Brian Gaskill (Oscar Marone; ex-Rafe Kovich, Port Charles).
A network spokesperson declined comment.