As reported by Soap Central earlier this year, Brian Gaskill (Oscar Marone) is no longer on contract with CBS's The Bold and the Beautiful. Now comes word from the actor that he may never again be seen on the 30-minute soap.
"Just so you know," Gaskill said in a statement, "the last time you saw me on B&B was the last time I worked there, and although I am on recurring status, I have no idea if and when I will be returning the show."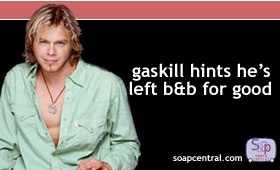 It was with much fanfare in September 2003 that Gaskill's addition to the B&B cast was announced. However, within a matter of months the actor's on-screen time began to dwindle. Insiders attributed the demise of Gaskill's story to the exit of three-time Emmy winner Jennifer Finnigan (ex-Bridget Forrester). By July, Gaskill announced that he'd been bumped to recurring status.
"Beginning in the middle of July, I have decided to continue working with The Bold and the Beautiful on a recurring basis," Gaskill said in a statement. "Although the role of Oscar Marone, which Brad Bell created for me, has not yet found a place to blossom on the show, both he and I agree there is still hope of seeing Ozzy around from time to time and we are happy about that."
Gaskill hints that a return to daytime television doesn't appear likely, but the actor is making sure not to burn any bridges noting that he'll "never say never" to a possible return on daytime television. Meanwhile, the actor is making the rounds in Los Angeles and auditioning for other projects.