Brian Gaskill (Oscar Marone), who joined the cast of The Bold and the Beautiful in September 2003 to much fanfare, has decided that he will effectively step away from the show.

Since joining The Bold and the Beautiful, however, Gaskill's on-screen time has shrunk to near non-existence. In fact, he's been a relative no-show in 2004. In a statement, the actor explains that he feels his character hasn't found his place on the show's canvas.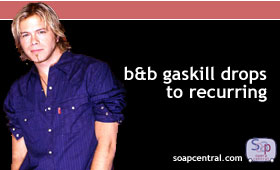 "Beginning in the middle of July, I have decided to continue working with The Bold and the Beautiful on a recurring basis," Gaskill said in a statement. "Although the role of Oscar Marone, which Brad Bell created for me, has not yet found a place to blossom on the show, both he and I agree there is still hope of seeing Ozzy around from time to time and we are happy about that."

The timing of Gaskill's announcement is ironic in someways. B&B execs have reportedly stepped up their efforts to lure Gaskill's former Port Charles love interest, Erin Hershey Presley (ex-Alison Barrington) to the show.

Upon the announced cancellation of Port Charles by ABC, several soaps are said to have expressed an interest in having Gaskill join their casts. Among the shows that courted Gaskill was All My Children, where Gaskill had previously played Bobby Warner from 1995 to 1997.

"I am looking forward to seeing what additional opportunities come next in my life," Gaskill added. "Thank you to my wonderful fans and the journalists who continue to support me."