Vivienne Avant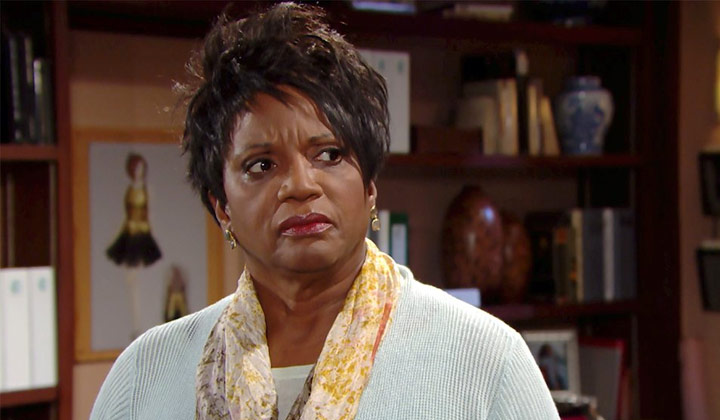 Works at the Department of Motor Vehicles, Los Angeles, CA
Former homemaker
Former county clerk
A motel room in Los Angeles, California
Formerly Evanston, Illinois
Married to Julius Avant as of 1981
None known
Carleen (sister)
Shirl (aunt)
Xander Avant (nephew)
Elizabeth Forrester (granddaughter)
Maya Avant (daughter; designated son Myron at birth; 1980s)
Nicole Avant (daughter; 1990s)
None known
None known
No known conditions
Vivienne Avant was a homemaker in Evanston, Illinois, where she raised two children, Myron and Nicole Avant, with her husband, Julius Avant. Vivienne tried to protect Myron when he got teased and beaten up at school; once Myron grew up, Vivienne hid Myron's birth certificate because he moved to Los Angeles and began the process of transitioning into Maya, a transgender woman. Vivienne shut Nicole down every time she asked about her brother.
When Nicole followed Maya to L.A., Vivienne flew there and demanded Nicole come home. However, seeing that Nicole was doing well and Maya was happy dating Forrester Creations executive Rick Forrester, Vivienne had a change of heart when Julius arrived to complete Vivienne's failed mission. Vivienne tried to keep her intolerant husband in line, suspicious when the out-of-work Julius appeared to accept Maya after seeing the luxury she had come into. Vivienne expressed joy when Rick proposed to Maya at the end of a fashion show which featured Maya and other transgender models.
At Maya's wedding, Vivienne refused to accompany Julius when Maya threw him out for calling the ceremony a "freak show," apologizing to Maya for having turned her back on her. Months later, Vivienne and Julius moved to Los Angeles themselves and had misgivings about Nicole becoming a surrogate for Rick and Maya. Vivienne couldn't understand when Julius objected to a visit by Nicole's childhood friend, Sasha Thompson, and later learned that Sasha was a product of a long-ago affair Julius had with Sasha's mother, Lucy Thompson. Vivienne kicked Julius out of their hotel room but grudgingly tolerated his presence upon the birth of their granddaughter, Elizabeth Forrester. Vivienne eventually agreed to try working through Julius' betrayal. Later, Vivienne happily attended baby "Lizzy"'s christening, which included Sasha. Vivienne was just as happy to attend Nicole's eventual wedding to Zende at the Forrester mansion.
Vivienne felt Nicole's heartbreak when Nicole revealed that she had experienced uterine scarring while giving birth to Lizzy, which may have rendered her infertile. Vivienne accompanied Nicole while she got a second opinion and wagged her finger at Julius when he stopped short of blaming Maya for Nicole's fertility problems. Vivienne ended up having to take a harder line with her husband once she learned Julius was badgering Nicole not to sign updated adoption papers and claim Lizzy for herself; Vivienne was relieved when Nicole ultimately signed the papers anyway. Some time later, Vivienne was surprised to learn that Zende and Nicole had been offered opportunities at Forrester International in Paris; Vivienne gave her daughter her blessing to move overseas. Vivienne was thrilled when Nicole visited at Thanksgiving and spent the holiday with her, Maya, and Julius at the Forrester's Thanksgiving feast.
Vivienne was happy to see her nephew, Xander Avant, arrive from London and take an internship at Forrester, but couldn't understand why Xander had decided to cover up his British accent. Much later, Vivienne was surprised when Maya returned to L.A. without Rick and without going into what had caused their split.