Xander Avant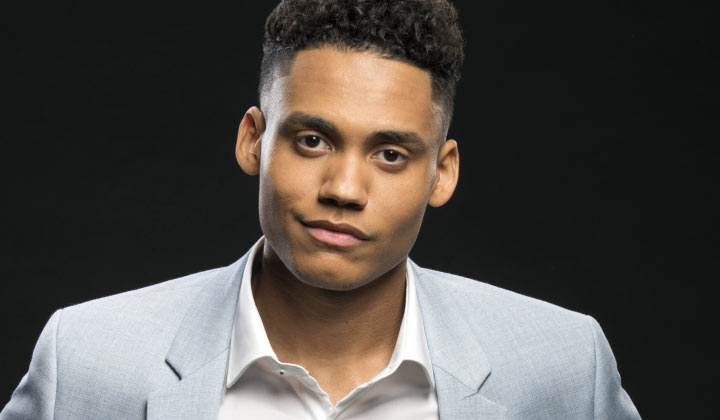 born Alexander Avant
Former model for Forrester Creations' Intimates line
Former intern at Forrester Creations
London
Formerly Los Angeles, CA
Single
None known
Claude Avant (father)
Maisie Avant (mother)
Julius Avant (uncle)
Vivienne Avant (aunt)
Maya Avant (cousin)
Nicole Avant (cousin)
Sasha Thompson (cousin)
Elizabeth Forrester (first cousin, once removed)
None known
Emma Barber (kissed)
Kept his British background a secret and affected an American accent [2018]
Kissed ex-girlfriend Zoe Buckingham multiple times while involved with Emma Barber [2018]
Complicit in keeping secret the theft of Hope Logan's baby by Reese Buckingham [2019]
Knocked unconscious by Emma Barber [2018]
Alexander "Xander" Avant is the son of Maisie and Claude Avant, whose brother, Julius Avant, is the father of design house Forrester Creations model Maya Avant. An aspiring graphic designer, Xander was thrilled to take an internship at Forrester that Maya made available for him, but Xander announced to his Los Angeles family that he didn't want the fashion dynasty to know he was from England, even affecting an American accent to fit in and fibbing that he was from the Midwest. On his first assignment, Xander was hit in the face by a gyrating girl and rendered unconscious; he learned the girl was dancer Emma Barber, a fellow intern. Xander and Emma had a good laugh over their introduction, but things became more serious when Xander stood up for Emma, who had naively taken photos of Forrester designs.
Xander and Emma kissed, and Xander admitted that he was hiding his British identity because he'd left his obsessive ex-girlfriend, Zoe Buckingham, behind in London and didn't want to be found by her. When threatening comments on the company web site were being directed at Xander's boss, Hope Logan, Xander caught Zoe sneaking around Forrester and correctly deduced Zoe was trying to intimidate Emma through Hope. Xander told Zoe to return to the UK but had to assure Emma when Zoe filled in for an injured model and made such a splash that Forrester hired her. When their beloved cat, Harry, died, Xander comforted Zoe, which led to a kiss.
Xander set up a romantic cabana scene for Emma, but was disappointed when Emma wasn't ready to have a physical relationship with him; Xander gave in an kissed the amorous Zoe again. Xander tried to convince Emma and Zoe that they could all get along as co-workers, which became harder when Xander and Zoe were tapped as models for Steffy Forrester's sexy Intimates line. Xander enjoyed an easy camaraderie with Zoe and continued to kiss her; after the success of Intimates' first showing, Xander wanted to celebrate with Emma and was surprised when Emma broke things off with him. Xander gave Zoe a second chance at their relationship and listened when Zoe worried about the effect her returning father, womanizing OB/GYN Reese Buckingham, would have on Zoe's life.
Xander stood by Zoe as she started looking into her father's strange behavior, but was confused when Zoe brought him to see Steffy, who had just adopted a baby. Xander stayed quiet as Zoe seemed to have something to tell Steffy but then thought better of it. When Zoe's sullenness continued over several months, Xander tried to get Zoe to open up, assuming the problem had something to do with Reese; Xander had to make do with Zoe's confirmation that Reese was involved, as Xander was unable to convince Zoe to go into detail. Finally, Xander walked in on Zoe arguing with new Forrester employee Florence Fulton about a baby; Xander's jaw dropped when he learned that the baby Steffy adopted was actually given birth to by Hope, who had been led to believe her own baby died by a baby-switching Reese.
Ignoring Zoe's pleas, Xander rushed to tell Hope her baby was alive but was stopped by Steffy's brother, Thomas Forrester, who wanted Hope for himself. Xander was shocked when Thomas found out the secret and menaced him, Zoe, and Flo into keeping quiet. Xander cried foul when Emma came upon him and Zoe discussing the secret only to end up dead in a car crash after a confrontation with Thomas; both Xander and Flo felt Thomas had something to do with Emma's death. Xander convinced Forrester security guard Charlie Webber to let him look at parking lot security footage and saw Thomas jumping into his car moments after Emma took off, which convinced Xander that Thomas had murdered Emma.
Xander broke into Thomas' car and learned from his GPS system that Thomas had stopped at Emma's crash site; when Xander couldn't convince Zoe to finally go to the Hope in the face of this news, Xander broke up with Zoe and left for London. After finding out off-screen from Maya that the truth was out and Hope's baby had been returned to her, Xander came back to L.A. to face the music with Zoe; Xander let Thomas' father, Ridge Forrester, know about Thomas' apparent involvement in Emma's death. Though Xander was relieved he and Zoe wouldn't be arrested for their part in the cover-up, they did find themselves out of a job when Ridge fired them from Forrester.

Post a Comment

Share on Facebook

Tweet this

Submit Feedback