Zoe Buckingham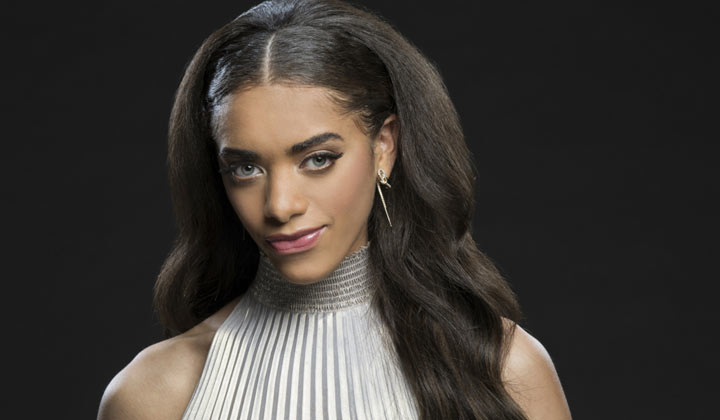 Model at Forrester Creations
Former model for Forrester Creations' Intimates line
Artist
Paris, France
Formerly a loft in Venice, CA
Formerly an apartment in Los Angeles, CA
Formerly London, England
Single
None known
Reese Buckingham (father)
Grace Buckingham (mother)
Paris Buckingham (sister)
None known
Thomas Forrester (broken engagement)
Carter Walton (broken engagement)
Sent threatening messages to Emma Barber via the Hope for the Future web site [2018]
Complicit in Reese Buckingham's baby switch [2019]
Made moves on Zende Forrester-Dominguez while engaged to Carter Walton [2021]
Spiked sister Zoe's smoothie with stomach-upsetting herbs [2021]
None known
Zoe Buckingham is an artist from London who shared a romantic past with Alexander "Xander" Avant. Zoe exhibited obsessive behavior, causing Xander to leave her and their cat, Harry; Zoe packed up Harry and tracked Xander to Los Angeles, where he had taken on an internship at Forrester Creations, a design house at which Xander's cousin, Maya Avant, was a lead model. Zoe was commissioned to paint a mural at the house of Wyatt Spencer; while there, Zoe used the laptop of Wyatt's girlfriend, Sally Spectra, to post threats on a Forrester Creations web site, knowing it would be traced back to Sally. Zoe then snuck into Forrester and spied on Xander kissing his new girlfriend, Emma Barber.
Zoe got caught by Xander and admitted she was only trying to scare Emma. Instead of returning to England per Xander's orders, Zoe stepped in for an injured model during a showing for Forrester's Hope for the Future line and made such a splash she was hired on permanently. Wanting Xander back, Zoe teased Xander and taunted Emma, whom Zoe considered a child. When Harry died, Zoe turned to Xander for comfort and was surprised when he kissed her. Zoe grudgingly agreed to coexist with Emma at Forrester when Xander asked the girls to get along, but got a chance to get closer to Xander when they both were selected to model for Steffy Forrester's sexy Intimates line; Zoe and Xander kissed several times. Zoe continued to let her ex know she was available, and, when Emma ended things with Xander, Zoe got a chance to try again with him, agreeing to take things slow.
Zoe wasn't happy when her OB/GYN father, Reese Buckingham, came to L.A. from England on a doctor exchange program; Zoe told Xander about Reese's womanizing ways and worried when Reese took an interest in Steffy's mother, Taylor Hayes. But Zoe was far more concerned after a haunted Reese was mysterious about delivering Hope Logan's stillborn child. Zoe continued to feel something deeper was behind Reese's erratic behavior, especially after he suddenly decided to return to London; having gotten custody of belongings Reese left behind at the hospital, Zoe used his key to let herself into his apartment and was stunned to find adoption papers signed by Steffy and Florence Fulton, whom Zoe learned was living at the apartment in Reese's absence.
Not believing the in-shape Flo had just delivered a baby and allowed Steffy to adopt it, Zoe pushed until she got Flo to admit Reese had played a part in events. Zoe confronted a visiting Reese and learned that she had been in danger thanks to Reese taking money from loan sharks to settle gambling debts; Zoe was horrified when Reese admitted he had delivered Hope Logan's baby but switched it with a stillborn infant from another patient in order to make enough money from Steffy adopting Hope's child to pay off the thugs. Zoe went straight to Steffy, but when she saw how happy Steffy was with the baby, and not wanting Reese to go to jail, Zoe agreed to keep quiet.
Later, Zoe found Flo working at a local bar and advised her to get out of town before they all went to prison. Zoe was aghast upon learning Flo had befriended Hope, and that it turned out Flo was Hope's cousin. When the close proximity to Hope had Flo wanting to confess, Zoe accidentally knocked Flo unconscious while struggling over Flo's phone and found a stun gun being pointed at her by Flo's mother, Shauna Fulton. After the situation diffused, Zoe made a pact with Shauna and Flo that they would never breathe a word about Hope's baby being alive, then evaded Xander's concerned questions about her declining demeanor. Zoe was finally forced to explain herself when Xander overheard her and Flo arguing about the secret; Zoe begged Xander not to go to Hope with the truth.
Zoe's troubles doubled after Steffy's brother, Thomas Forrester, got wind of the baby switch secret and menacingly threatened Zoe, Flo, and Xander into keeping quiet. When Emma walked in on her and Xander's vehement disagreement about the situation, Zoe called Thomas to prevent Emma from telling Hope the truth; Zoe couldn't believe it when Emma ended up dead in a car crash hours later. Zoe refused to believe Xander and Flo's claim that Thomas had something to do with Emma's death and repeatedly rationalized her secret-keeping to Xander, even after Xander had gotten into Thomas' GPS and learned Thomas had stopped on the road at Emma's crash site. Zoe ended up alone when Xander dumped her and went back to England.
When the truth finally came out, Zoe faced the wrath of the Forrester family, with a returning Xander by her side. Though Zoe was relieved that Hope's family chose not to press charges, Zoe found herself out of a job and fell on hard times. Zoe accepted an invitation to live with an ostracized Thomas and his friend, Vinny; at one point, Zoe let Thomas kiss her. Zoe attended Reese's sentencing hearing off-screen and was likewise there when he was imprisoned.
Zoe was surprised when Steffy hired her back at Forrester, asking her to spy on Thomas because Steffy wanted to make sure Thomas was over Hope. Instead, Zoe started seeing Thomas despite resistance from Thomas' little boy, Douglas Forrester. Zoe accepted Thomas' proposal despite repeated warnings about Thomas still wanting Hope; determined to prove the naysayers wrong, Zoe agreed to take part in a plan for Hope to arrive at Zoe's nuptials wearing a wedding dress Thomas had designed for Hope. Zoe was sure Thomas would choose her, but received a shock when Thomas indeed jilted her at the altar. Zoe stood by Hope as she exposed Thomas before his wedding guests and watched Thomas run out.
Zoe became friends with Forrester lawyer Carter Walton and eventually began dating him. Zoe liked how romantic Carter was toward her and that her past misdeeds didn't matter to him. However, when designer Zende Forrester-Dominguez returned to L.A. having split from his wife, Zoe immediately started flirting with Zende, even as Carter asked Zoe to move in with him. Zoe became further conflicted when her sister, Paris Buckingham, arrived in L.A. and took an instant interest in Zende; after Carter proposed to Zoe and Zende encouraged her to accept, Zoe agreed to be Carter's wife.
Zoe bristled when Carter recommended Paris for a position on the Forrester Foundation, feeling her sister was infringing on her territory. Zoe continued to wonder if Zende was a romantic option even as she stalled setting a wedding date with Carter; Zoe found herself dumped when she got caught making moves on Zende and tried to explain to Carter that she had a tendency to sabotage herself, which fell on deaf ears. Zoe blamed Paris for her cancelled engagement and, on the suggestion of Forrester jeweler Quinn Fuller, spiked Paris' smoothie with stomach-upsetting herbs to ruin Paris' date with Zende. Zoe thought better of it afterwards and made up with Paris, even endorsing Paris' burgeoning relationship with Zende.
Zoe continued trying to salvage her own relationship, approaching Carter in a sexy dress to persuade him. When that didn't work, Zoe asked Quinn to talk to Carter on her behalf, encouraging Quinn to keep trying when Carter wouldn't budge. Zoe was broken-hearted when she let herself into Carter's loft and found him in bed, with women's clothes scattered on the floor. Later, Zoe recognized the jacket at the office and was stunned when Shauna claimed it, confessing to being Carter's bedpartner. Zoe was ready for a fresh start when Carter took her back and renewed their engagement, but it all came crashing down when, before Zoe took off on an extended assignment in Paris, Zoe's sister Paris learned that it was Quinn, not Shauna, with whom Carter had been sleeping. Zoe broke up with Carter off-screen.

Post a Comment

Share on Facebook

Tweet this

Submit Feedback